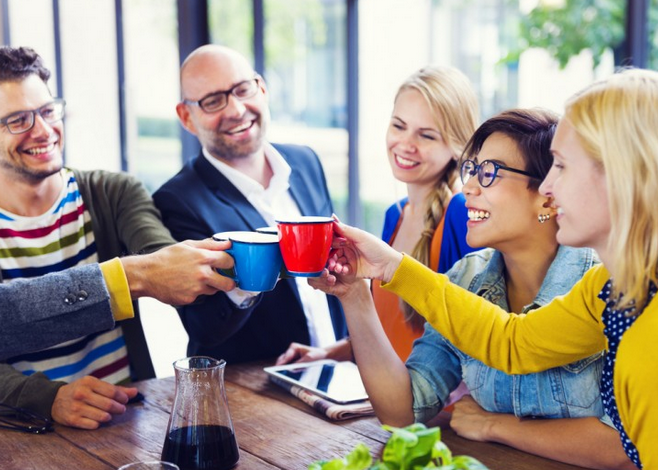 5 Reasons all Bloggers Should Run Events for their Readers
Run a blog? Have you considered organising an event for your readers? You should do. Whether you have just a few hundred readers or thousands of them, holding an event is a way to bring your blog to life in a tangible way.
Here are the five main reasons all bloggers should run events for their readers:
1. Make Money
If you want to make real money from your blog, that could potentially become a full-time income, you need to think strategically. Affiliate advertising alone is unlikely to enable you to quit your day job, so it is necessary to branch out.
The most successful bloggers don't make money from blogging directly – their blog simply acts as a springboard to launch other projects that bring in income, such as books, public speaking, events etc. The key to making good money as a blogger is to have multiple streams of income.
You could host a low-key social event, short talk or workshop, or think big and organise a day-long seminar or even a multi-day conference. Some huge events like Social Media Marketing World in San Diego and BritMums Live!, the UK's biggest blogger event, grew out of blogs.
2. Connect with Readers
It's very easy to view your readership as a statistic; a figure that you wish to increase. But these are real people – people with their own interesting lives, thoughts and ideas, brought together by one thing; an enjoyment of your writing. Wouldn't you like to get to know them better?
Building meaningful relationships with your readers will not only help you shape and improve your blog, it can also lead to new opportunities for collaboration, such as guest posting and speaking, which will help grow your readership. You might also make some great, like-minded friends!
3. Get Better Feedback
Reader comments are an important gauge for measuring sentiment about your blog, but do not expose the whole picture. Meeting with readers in person will enable you to have far more insightful conversations.
Find out what they like, what they don't like, what they want to see more of. Getting to know your audience as individuals will help you better understand their interests and needs, and ensure you're writing posts that will enjoy maximum likes, shares and comments.
4. Generate Blog Content
Hosting an event for your readers will really focus your mind on the topics they most want addressed. Run a health and wellness blog? Maybe you'll host a workshop on nutrition. Write a mummy blog? Perhaps you could organise a seminar on launching a new career during maternity leave.
You may well need to team up with others to help deliver authoritative content at your event, such as industry experts, speakers and sponsors. These partnerships will help generate fresh content for your blog as well.
You can feature interviews, podcasts and guest posts from contributors, explore the event topics in further detail and develop themes and ideas that emerge from the event.
5. Build a Strong Community
By letting your readers meet each other you can start to build a community around your blog. A loyal community following could mean the difference between an ever-growing readership and having your blog fade into the rest of the social noise on the web.
By having your readers interacting with each other as well as you, there will always be lively conversation and debate – the lifeblood of any successful blog.
A great example of offline community building is #blogclub, a meet up for bloggers in Bristol organised by the Bonjour, Blogger blog. #blogclub is designed as a place bloggers can get together to discuss issues that affect them, work on blog posts with others, and simply chat.
Organiser Hayley says: "Blogging is amazing, but it can be a little lonely. We wanted to bring bloggers together to work on their blogs on a regular basis."
The events are free, but Hayley uses Eventbrite to distribute tickets and manage the event, enabling her to see who's coming and keep tabs on attendee numbers.
Conclusion
Live events are an excellent way to meet and connect with your readers and build a better blog. It could also result in all sorts of other opportunities and even turn your passion into a full time career.
Whether you decide to charge for tickets or not, Eventbrite provides all the tools you need to organise and promote your first event. Click here to learn more.