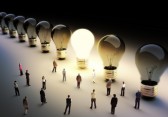 Stand Out With The Perfect Event Value Proposition. Here's How.
Does your event have a clearly defined audience, written down in a document, ideally as a buyer persona?
If yes, proceed!  If not…please take one step back and see yesterday's post on 'How To Avoid The Number One Mistake of Failed Events.'
Once you've defined your audience, the next step to launching a successful event is to figure out its value proposition or Unique Selling Proposition (USP) based on what your audience cares about.
You can do this by answering four questions, which we'll run through in turn:
Why is your event unique?
You should have some idea about why your event is different to anything else out there.  Why would someone choose to attend your event and not someone else's?
Is the content of your event substantially different or better?  Do you have better bands or artists, more senior speakers, a unique twist on an old topic?
Maybe it's the format of your event?  Perhaps every presentation will be delivered by singing monks, or the race will have crazy obstacles for people to tackle.  Maybe it's radical by having almost no format at all (think the growing trend in 'Un-Conferences')!
Location is a great way to differentiate your event.  Could you hold it in a golf resort while everyone else goes to airport hotels?  Is your event local to Manchester versus London?
Service is a frequently underestimated point of differentiation.  Can you offer better phone support, airport transfers, free drinks, Eventbrite for a smooth registration system (service doesn't have to mean expensive).
Could you apply one concept to another, a technique often used in technology startups where you'll hear things like 'We're an AirBnB for pets' or 'An Uber for helicopters'.  Could your event be a Glastonbury for pets? A conference for the unemployed?
Last – and this should come last – is the possibility of differentiating on price.  This doesn't always mean a race to the bottom, although that is often what happens.  Perhaps your event could be 50% cheaper than the nearest alternative.  But it could also be 100% more expensive AND 500% better because you're offering a superior service in a fantastic location with truly unique and exclusive content.  The luxury market can be a great one to target.
For a wonderful book on finding unique value propositions and standing out from the competition, I'd highly recommend you read Blue Ocean Strategy.
Is it relevant and valuable to your audience?
It can be easy at the first step to get carried away, planning a gig with Lady Gaga performing at the top of Mount Everest in a fundraising event for ugly ducklings.  Sure, you'd have a unique event.
But is it relevant and valuable to your audience?
This is the key question you need to ask next.  Will the type of person you want to attend your event really care about the unique aspect of your event?  There's no point in differentiating your event by putting it on in a unique location if your audience cares about convenience and won't travel.
Don't go luxury if they're heavily budget conscious.  Don't switch to 5 minute lightening talks if your ideal attendee wants (or needs) to hear a deep and complex scientific dissertation.
Do make sure your USP will appeal to and delight your defined audience, and then you are on to a winner!
What benefit will they leave with?
Now you have a relevant and valuable USP for your defined audience, you need to translate it into a benefit that will resonate with them.
Ideally this should answer the question: What benefit will they leave with?
Attending an event where presentations are sung by monks sounds interesting, but it's still just a feature.  It doesn't help answer the 'so what' or 'why is that useful to me' questions your potential attendee has.
Attend an event where presentations are sung by monks because you'll leave 50% more refreshed while retaining 80% more of the information and enjoy a memorable experience to share with your office and friends…that's a little more like it!
What's your story?
Now, can you go one step further, and turn all of this into a compelling story?
An event with a strong narrative will really stand out in the market because people are moved by stories, and they connect with brands and companies that tell them.
The story has to star your defined audience – the persona you've drawn up.  You know what their challenge is, so start with that.  This is the conflict ('Conflict is drama'), and your event is the knight in shining armour come to rescue them.
Whether they're bored, need to see the latest band, care about a good cause or want to get ahead in business, life or love – these are needs (challenges) that great events can fill.
Tell them how you'll fulfil it better than anyone else, by providing them with a unique and valuable experience they'll remember long after the event.
So, the key components of the story are: persona, their conflict (need/challenge), your unique solution (your event) and a happy ending (the lasting benefit that will be achieved from attending your event).
Here's a completely made up example!
John is the persona that exemplifies your defined audience.
Event persona:
John really wants to learn basic accounting because he's self-employed and want to keep better track of his money.  He reads small business magazines and forums, and is an active member of small business groups on LinkedIn.
Unfortunately he has very little time or money for expensive and in-depth training, plus he finds the subject boring.
Here's how you can pitch your event to John:
Event tagline:
A unique learning experience for time poor business owners who need to master accounting basics and enjoy the idea of singing monks…
Event narrative:
Do you have a small business but struggle with keeping track of your income, expenses and cashflow?
Would you benefit from a better grasp of accounting but don't have the time, money or patience for attending long and boring training sessions? 
We present to you Singing Monks Teach Accounting, an event dedicated to helping small business owners keep their finances on track.
We believe that learning the basics of business should be fun, interesting and simple. 
You'll learn all the basics of accounting you need in a day, and thanks to our completely unique and fun format, you'll leave feeling excited by the subject, and retain all the key information much more easily than from traditional methods. 
In fact, it's been shown that people can retain 50% more information when sung to them than when spoken. 
Interested in learning more? 
Just contact our friendly team of teaching monks on 000 000 000 whenever is convenient for you, or book your ticket now at singingmonksteachaccounting.eventbrite.co.uk 
Hurry, places are limited!  We can't wait to see you there…
In conclusion
Having a compelling event USP or value proposition will help you stand out in a crowded market and take you a step closer to success.
Great event USPs should speak to your defined audience, provide a relevant and unique benefit, and ideally be expressed in a narrative way.
Got an upcoming event? Join us for a free webinar on ''How to Sell Your First Event Tickets'', which takes you through a step-by-step guide that will help you sell your first tickets and start to build momentum towards a sell-out event.  It takes place Thursday, September 18, 2014 from 2:00 PM to 3:00 PM (GMT).
Not on Eventbrite yet?  Sign-up today, it's free!