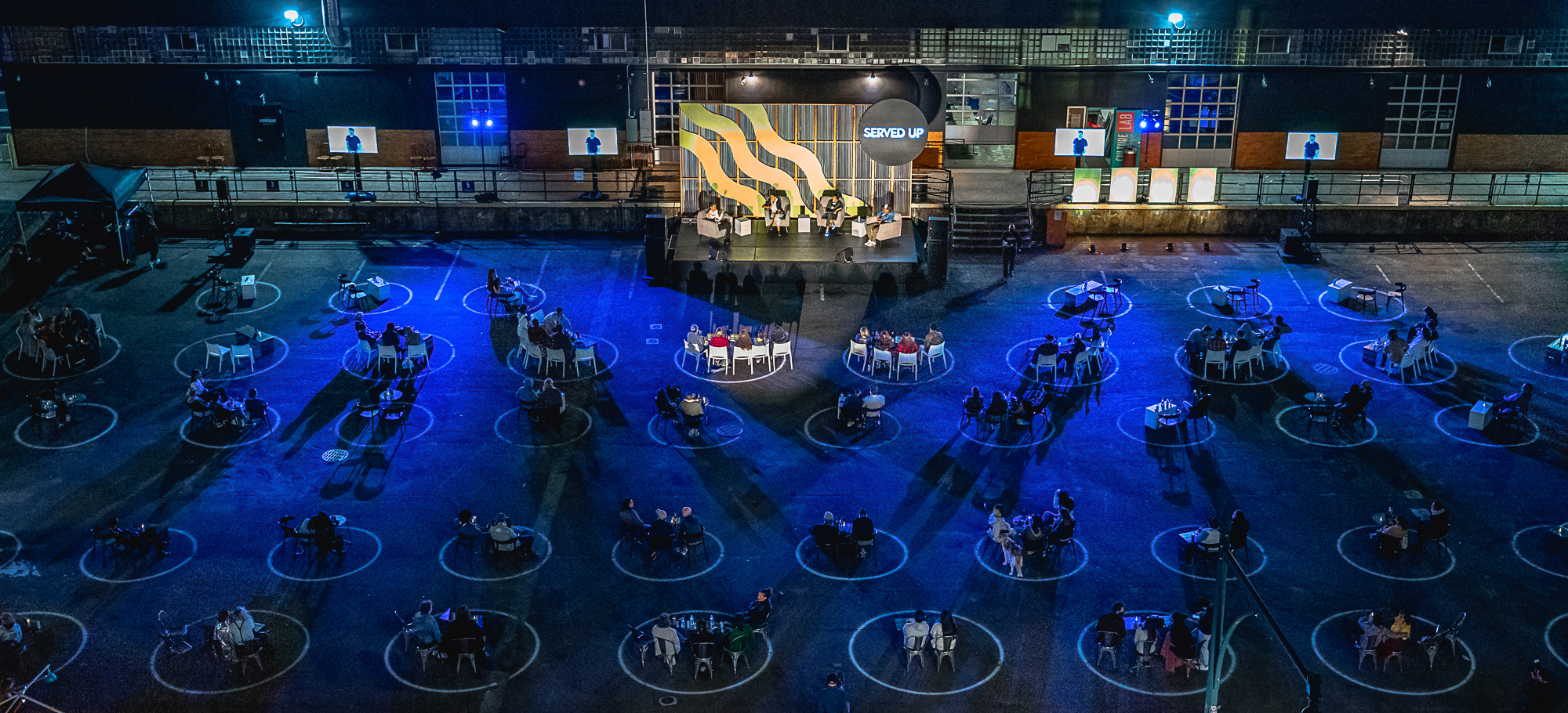 Events Industry Round Up: Latest News, Reopening Updates, and Creative Safety Measures
With more than a year of COVID-19 restrictions behind us, many event creators are now used to delivering events in increasingly innovative ways. And now that lockdown restrictions have eased, we're seeing the return of in-person events.
To help keep you informed, we've put together this round up of the latest event rules and regulations in the UK and Ireland, as well as the most interesting events industry news.
Let's start with the good news
COVID-19 regulations in the UK and Ireland – and what they mean
UK
Currently, the four nations of the UK are working towards their own roadmaps out of lockdown, which are based on data, rather than set dates.
England
In England, the majority of COVID-19 restrictions have been lifted. However, guidance emphasises personal judgement and responsibility.
When it comes to events, all venues are open and no longer have to implement capacity limits or social distancing measures. Plus, the previously announced plans for vaccine passports for access into nightclubs and large events will not go ahead at the end of September. Such venues are still encouraged to ask attendees for proof of vaccination, a negative test result, or recent immunity.
The government has also set out a COVID-19 plan for the coming months. The measures in Plan A include offering booster jabs to 30 million people and vaccinating 12- to 15-year-olds. A Plan B of compulsory face masks and asking people to work from home will only be put in place as a last resort.
Scotland
In Scotland, there are no social distancing measures or restrictions on gatherings in the majority of settings. All venues across the country, including nightclubs, are also open again.
However, some restrictions remain. Face coverings still need to be worn indoors, but can be removed for dancing, drinking, and dining, and contact details need to be collected for Test and Protect. Events also face some limitations, as indoor events are restricted to 2,000 attendees and outdoor events are limited to 5,000 guests. Some exceptions may be made on a case-by-case basis. All of the above will be reviewed every three weeks.
From October 1, anyone over 18 will be required to show proof of double vaccination before they're allowed entry into nightclubs, unseated indoor events with more than 500 attendees, unseated outdoor events of more than 4,000, and any event with more than 10,000 guests.
Wales
Wales is at alert level zero. There are now no legal restrictions on the number of people who can meet indoors and all premises, including nightclubs, are open again.
People are still legally required to wear face coverings indoors, except for in hospitality settings.
The nation has also confirmed that fully vaccinated adults no longer have to self-isolate if they've been in close contact with someone who has coronavirus. 
Northern Ireland
In Northern Ireland, venues like theatres have reopened and conferences and exhibitions have returned. People must still wear a face covering at all indoor venues and customer details are required for the Test, Trace, Protect contact tracing programme.
As of September 10, rules on table service have been lifted in pubs and restaurants. Dancing is also now allowed at weddings, but nightclubs remain closed.
Events, like concerts and theatres, must issue entry by ticket only, which should be purchased in advance. Attendees for indoor events must also have seats allocated to them and remain seated. A distance of one metre is required between guests at indoor venues. At outdoor venues, a social distance of one metre is advised when two isn't viable.
For gatherings of more than 15 people in a public indoor setting, the organiser must carry out a risk assessment to determine the maximum number of people who can attend. This also applies to outdoor gatherings of more than 30 people.
It is hoped that all of the remaining restrictions could be removed by Christmas.
Ireland
Indoor events have finally been given the go-ahead in Ireland. Live music events can be held with a seated audience and indoor events and mass gatherings can occur at a 60% venue capacity. Outdoor events and mass gatherings are able to take place at 75% of the venue's capacity.
However, adult attendees at all events must either be fully vaccinated or have recovered from COVID-19 in the past six months. (If attendees have a mixed immunity status, the capacity limit is 50% at outdoor events with appropriate protective measures in place.)
From September 20, all restrictions on outdoor group activities will be removed. And organised indoor group activities will be able to be held for 100 people at a time, as long as adult attendees are fully vaccinated or recovered from COVID-19 within the past six months. If guests have a mixed immunity status, pods of up to six people will be allowed. Again, appropriate protective measures will need to be implemented.
It is intended that the majority of restrictions, like face coverings and social distancing, will be lifted on October 22.
Managing COVID-19 restrictions
As restrictions continue to ease, many venues and creators are bringing back live events with additional health and safety measures in place. Use the following for inspiration:
The Button Factory

in Dublin is hosting a variety of live music performances in September. The organisers have stated that a COVID-19 compliance officer will be on-site and staff will wear masks. There will also be a one-way system in place and temperature checks will be carried out on each attendee when they arrive.

Summertime Live

is continuing its music event line-up with a festival in Lingfield on September 18. To help keep attendees safe, anyone over 11 is required to show their COVID-19 status on entry. This can be confirmation of a negative lateral flow test uploaded to the NHS website or proof of double vaccination or immunity via the NHS app.

Kilogarm has provided plenty of COVID-19 information on its pop-up listings to put attendees at ease. The event pages state that hand sanitiser will be available upon entry and face coverings must be worn. Customers are advised to stay two metres apart while at the event and high contact areas will be cleaned throughout the day
Inspiration and further reading
With the UK and Ireland almost at the end of their lockdown exit strategies, you'll probably be itching to start in-person event planning once again. The Eventbrite blog is packed with tips and resources to help you navigate the return to in-person events. There's also plenty of content to help you get to grips with topics such as livestreaming and hybrid events. Here are some of our latest posts:
For more help with staging events in the current climate, check out our COVID-19 resources for event creators.