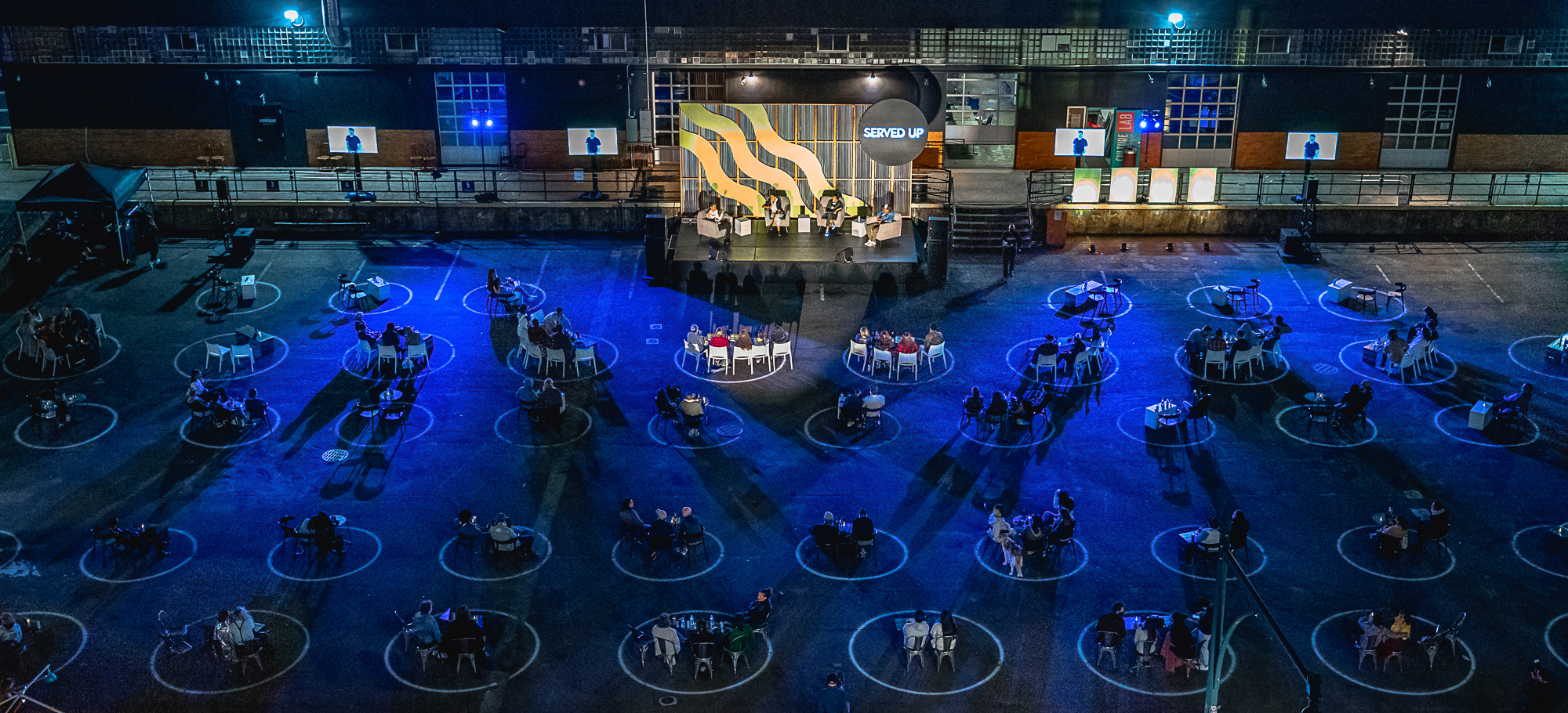 Events Industry Report: Reopening Updates, Restrictions, and Creative Safety Measures
2020 has been a year like no other for the events industry, and many organisers are now using innovative methods to deliver their events. But ongoing COVID-19 restrictions mean that it can be tricky for event organisers to understand what's allowed and where.
To help keep you informed, we've put together a round-up of the latest event rules and regulations in the UK and Ireland, as well as the most interesting events industry news.
Let's start with the good news
On December 2, the UK became the first country in the world to approve the Pfizer/BioNTech COVID-19 vaccine. Batches have already started to arrive in hospitals around the country, with 90-year-old Margaret Keenan receiving the first dose outside of testing. Although experts have warned that life won't be back to normal quite yet – as it'll be a few months until everybody's vaccinated – it's a welcome development.

Last month, the UK government announced that Local Authorities will be given extra funding to help businesses in the events industry. The guidance states: "We encourage Local Authorities to develop discretionary grant schemes to help those businesses which – while not legally forced to close – are nonetheless severely impacted by the restrictions."

The #wecreateexperiences campaign launched on December 7 to promote the UK's events and experiences industry. The first phase of the campaign is aimed at the business community, encouraging them to book product launches, trade shows, and conferences for 2021. The campaign is backed by big names like rugby player Jonny Wilkinson, celebrity chef Tom Kerridge, and comedian Rory Bremner.
COVID-19 regulations in the UK and Ireland – and what they mean
Instead of a general UK curfew, each country has its own social gathering rules and COVID-19 restrictions. In England, pubs and restaurants need to shut by 11 p.m., while in Scotland, closing time is as early as 6 p.m. in some areas. While certain COVID-19 restrictions in the UK cover a whole nation, others are regional. We've outlined the rules that are most likely to impact event organisers:
England
On December 2, England came out of full lockdown and transitioned into the tier system.
Tier 1: People can meet up in person, both indoors and outdoors, in groups of up to six. Sports events can resume at 50% capacity or with 4,000 spectators (whichever is the lowest). Bars, restaurants, and venues are allowed to reopen.

Tier 2: Sports events can resume with up to 2,000 spectators or 50% capacity (whichever is lower). Pubs and bars are allowed to reopen if they serve 'substantial meals' alongside drinks – however, they must close by 11 p.m. Groups of up to six can meet outside, but only one household is allowed to mingle indoors.

Tier 3: Indoor entertainment and hospitality venues must remain closed. People can meet outside in groups of up to six.
Scotland
Scotland has been operating under a tier system since November 2. There are five levels, ranging from 0 – which includes minimum restrictions – to 4, which is a strict lockdown. At the moment, no regions in Scotland are at Level 0. However, in all areas, up to six people from two households can meet in indoor public spaces.
Level 1: Outdoor seated events are permitted, with restricted numbers. Outdoor group leisure events are also allowed to take place, and hospitality venues (except for nightclubs) are allowed to open.

Level 2: Drive-in shows are the only live event type permitted at this level.

Levels 3 and 4: No live events are permitted at these levels.
Ireland
Ireland has a five-level tier system, ranging from mild (Level 1) to strict (Level 5). At the moment, the whole country is under Level 3. Museums, galleries, and cinemas are allowed to open. Cafés, pubs that serve food, and restaurants are also allowed to open with a maximum of six people per table. No organised indoor events are allowed (although professional sports events can take place without spectators). Up to 15 people are allowed to attend controlled events outside, such as outdoor art or training events.
Northern Ireland
In Northern Ireland, hospitality and leisure venues are closed. Theatres and concert halls are allowed to open for rehearsals or live recordings without an audience. Only elite level indoor and outdoor sporting events are allowed to take place but without spectators.
Wales
Restaurants, cafés, bars, and pubs currently have to close at 6 p.m. Meanwhile, entertainment venues and indoor tourist attractions have to close completely. Small outdoor events – such as light shows, Christmas markets, Santa's grottos, and reindeer trails – are still allowed to take place, as long as the organisers follow event guidelines to minimise the risk of COVID-19.
Managing COVID-19 restrictions
Despite the tightening of restrictions, many venues and creators are getting creative to continue hosting events in a safe, and compliant, way.
Global retail brand Anthropologie is using a combination of

in-store and online events

to engage customers across the country – even in regions that are at a higher tier. The fun events include festive calligraphy lessons, virtual pottery masterclasses, and Goddess yoga.

Pantomime is a quintessential part of the British Christmas experience. Since current event rules mean they can't be performed with a live audience, many theatre troupes are taking their pantomimes online. Plus, Eventbrite's partnership with Vimeo makes it easy to record performances and release a password protected video link. If you need some inspiration, check out

Covidella and the Masked Ball

, the

COVID Christmas Panto on a Budget

,

 and

Cinderella – the Online Adult Drag Panto.

Edinburgh Zoo has made its

Christmas Nights

event COVID-19 (and Tier 3) appropriate by introducing a number of safety and

social distancing measures, such as limiting the number of guests per time-slot. Most of the event takes place outside, but for indoor moments – such as visits to Santa's grotto – masks need to be worn.
Inspiration and further reading
The Eventbrite blog is packed with tips and resources to help you navigate the return to in-person events – or get to grips with online streaming technology. Here are some of our latest posts:
For more help with staging in-person events check out our COVID-19 Safety Playbook