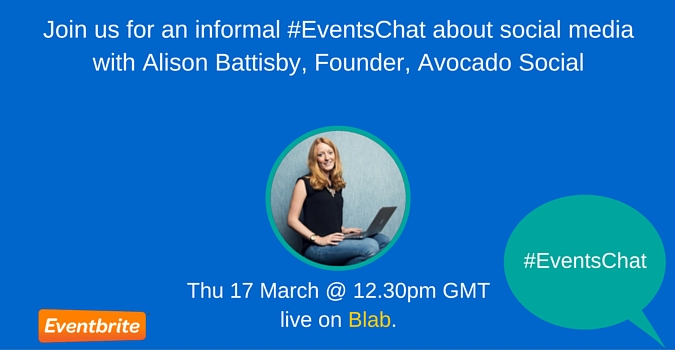 #EventsChat: Social Media Promotion with Alison Battisby, Founder of Avocado Social
In this week's #EventsChat, Mark Walker is joined by Alison Battisby, Founder of Avocado Social, an agency specialising in social media training and consultancy.
Tune in at 12.30 GMT on Thursday 17th March to learn:
What common mistakes event organisers make in their social media strategies
Ideas and advice on how to use social media to drive ticket sales and attendance at your events
The future of the big social networks and how this will impact you
Tune in directly here at 12.30 GMT on Blab.
More about Alison

Avocado Social was established in 2014, aiming to help people understand Social Media better in a fun and digestible way! Alison Battisby founded Avocado Social, having worked in the online marketing industry since 2008…
Alison has been involved in some groundbreaking social media projects for brands including Nokia, Tesco and Pringles at some top London advertising agencies. She was a Social Media Consultant for three years, offering expert advice to a range of start ups, growing enterprises and global brands.
Alison offers highly tailored social media training bringing together a wealth of experience from retail, technology, and online brands. She has been praised for her friendly manner and professional approach which suits everyone's level of knowledge and understanding. She has plenty of experience training top UK brands including Legal & General, Debenhams and EDF Energy.