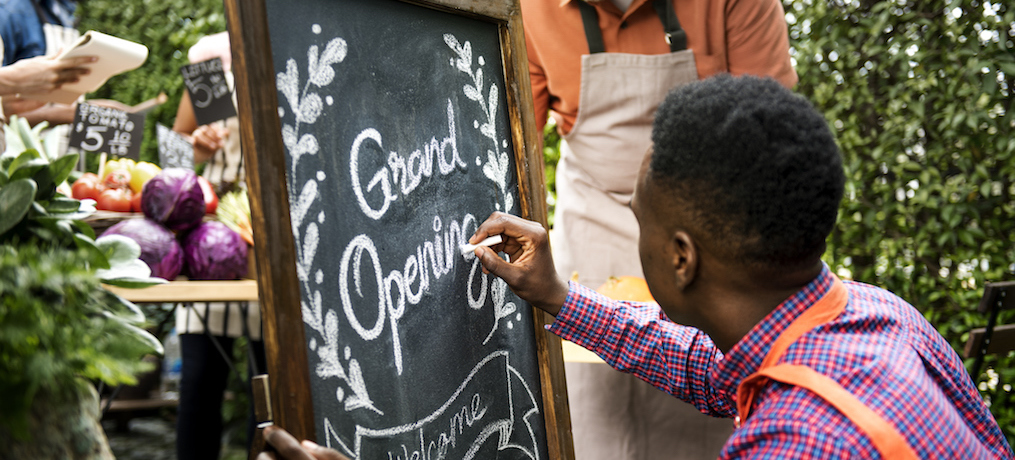 Grand Opening Ideas: Craft an Event Customers Won't Forget
First impressions are everything. If you're launching a new business, an opening event provokes excitement, curiosity, and a sense of community. But a simple ribbon-cutting ceremony no longer cuts it.
From idea to operation to afterglow, here's how to come up with grand opening ideas, market your event effectively, and execute it with style.
Focus on your goals for your grand opening
A grand opening isn't just any event. Your goals for your business are specific. For instance, you might be looking to:
Create awareness around your brand. This is your first big marketing effort, and you can only do it once. Make sure you have

a tight, unified brand message

. Your staff should know exactly how to talk about your event — and your brand — from the word go.

Get people excited about your business. Beyond awareness, you want to create an authentic connection with your local community. You might not be the first shop or business of your kind in your town, but your grand opening is the event that can differentiate your business from any others.

Build relationships with the community. Your grand opening event can kick off your relationships not just with customers, but with business partners and vendors you'll interact with in the years to come. Get these relationships off on the right foot by inviting them to a grand opening party that will genuinely excite them.
With your business goals in mind, it's time to brainstorm grand opening ideas.
Grand opening ideas that stand out
Every successful launch starts with a great idea. Here are just a few grand opening ideas to make your opening event an affair to remember.
Break a record
Guinness World Records has been wowing people since the '50s. But did you know that the famous organisation behind record-breaking spectacles has a strategic Business Solutions team?
These experienced marketing pros can help your organisation break a record at your grand opening party. The Guinness team helped LG Electronics build the world's tallest house of cards atop an LG washing machine while it was running. They can help you think of a record to break, and pull it off.
Create a publicity stunt
Did you know the Tour de France started as a publicity stunt to promote a new French newspaper? And the Rose of Tralee started as a means of boosting local businesses. Now, the annual events are beloved traditions, televised around the world. 
Attention-getting stunts can make for the most effective grand opening ideas to generate PR. Consider choreographing a flash mob, creating a human billboard, or launching your own annual race or parade to catch people's attention.
At this point it would be remiss of us not to mention the Ballydehob Turnip Races World Championship making the front page of the Wall Street Journal – now that's publicity that you can't buy!
Bring a past decade to life
Why not mix the old and the new by using your opening to celebrate an aspect of local heritage? Not only will it generate interest, you are also telling potential customers and venues that your business values the area as much as they undoubtedly do.  
Dress it up
It doesn't have to be October for people to want to dress up. Inspire attendees with a thematic costume challenge. If you're opening a store devoted to luxury items, for instance, a Great Gatsby party makes for a great time — and social media worthy photos.
Support a cause
Is there a charity that's closely aligned with the theme or goals of your business? Is there a local cause you could support? Fundraisers, sponsorships, and simple donations are all great ways to establish your brand as charitable and attract a generous crowd.
Marketing your grand opening event
Marketing grand openings is slightly different than promoting other events because your brand or business is new. That means you might not have an existing audience to market to.
To reach new people, you'll need to adopt some specific tactics.
Local PR. In Ireland, local radio is king, with devoted followers tuning in for everything from GAA updates to complaints about the state of the roads. Local radio stations and newspapers are an effective way to reach a local audience. You could invite a local radio station to cover your grand opening event in person to generate even more buzz.

Social media. If you don't already have

social media pages set up

, get them up and running before your event. Tag your posts at local hot spots and with popular

hashtags

so users who aren't yet following you will see your posts.

Make a Facebook Event. Create a Facebook Event from your Facebook Business Page so your grand opening event will come up for users who conduct a relevant event search.

Advertise online. Take advantage of

online advertising platforms

like Google and Facebook that allow you to set a budget and focus on a local target market.
Once you gather email addresses in the registration process and at your event itself, you'll be able to send attendees marketing updates after your opening. Consider emailing them post-event with a discount and links to follow you on social media.
Looking for more ideas to promote your grand opening? Check out The 10 Best Ways to Promote Your Event Online for more tips.