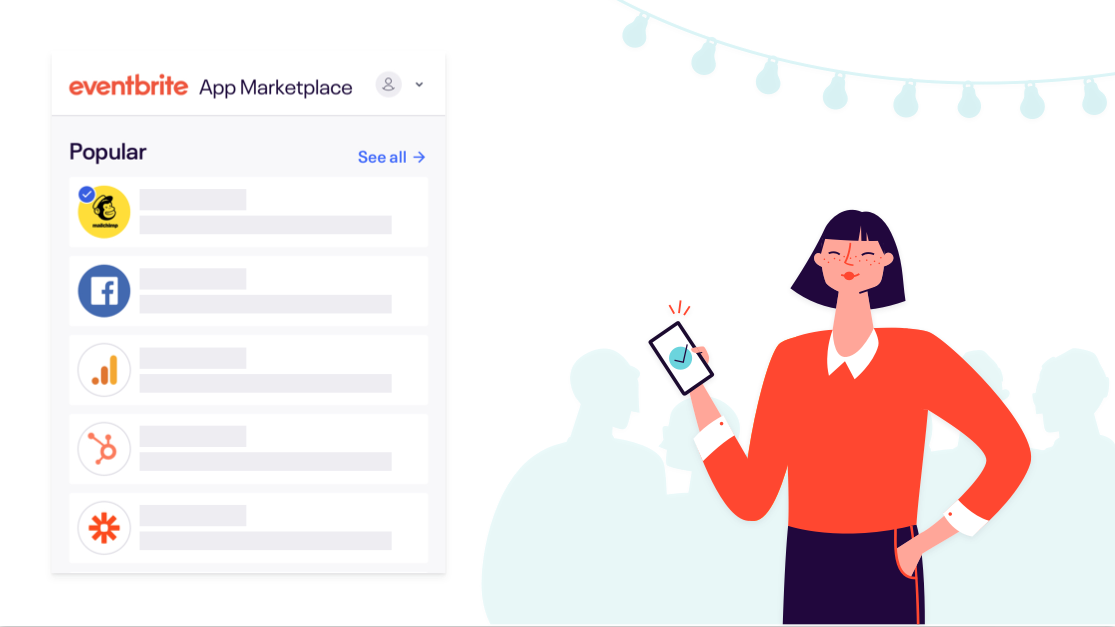 Introducing the Eventbrite App Marketplace: Essential Apps for Event Creators
The Eventbrite App Marketplace is a collection of powerful and trusted apps built for event creators like you. Discover more about your audience, sell more tickets in more places, and save time with apps that work seamlessly with Eventbrite.
Every event is unique, and that's why today we're excited to launch the new Eventbrite App Marketplace, so that you can connect Eventbrite to the tools you use every day and grow your event your way.  From email and social media marketing to badge printing, discover 100+ apps that help you grow your events like a pro.
Popular apps to get you started
Facebook
Start selling tickets directly on your Facebook business page in just two minutes with our Add to Facebook app feature. Once you've published your event to Facebook, attendees can buy tickets, register or reserve seats without ever leaving Facebook. A simpler checkout means more people at your events.
"Before we'd have to manually go in and fill out each little detail on the Facebook event. Now we create the title, hit publish and all the details are there."
Jordan Olels, Marketing and Ticketing Manager at Neumos
HubSpot
Get attendee info in HubSpot automatically and capture leads for your business. When registrations are placed for your event, contacts are created or updated in HubSpot so that you can nurture leads, measure the ROI of your event, and turn attendees into paying customers for your business.
"Eventbrite allowed us to streamline our event creation and sales, all while the HubSpot integration offered task automation and improved collection and management of customer information,"  
Dan Cowan, Senior Brand Manager at EXOS
Mailchimp
The Mailchimp app makes it simple to seamlessly sync event attendees to an audience in your Mailchimp account. Once contacts are added to an audience, you can set up personalised email campaigns and send automated messages or reminders to your attendees just before your event takes place.
This is just the beginning
We have some exciting apps to announce soon with partners that are improving the way creators like you organise, discover, and experience events, and we'll continue to add to the Eventbrite App Marketplace as new apps become available.
If you have suggestions for apps that you'd like to use or you can't find what you're looking for, we'd love to hear from you: Join the conversation here.