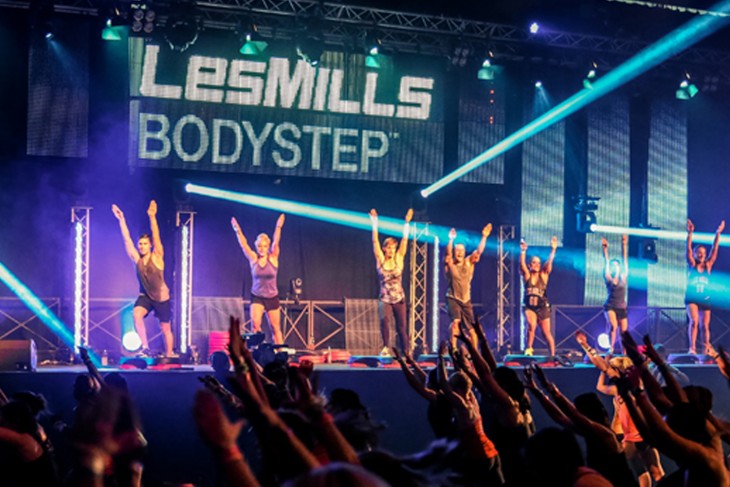 12 Examples of Promotional Events to Build Your Brand
Helping to 'build a lifestyle' around products and services, experiential activity is often central to major brands' marketing strategies.
But whether your brand is big or small, holding live events is a brilliant way to raise your company's profile and connect with customers.
We've profiled 12 of the most notable promotional events to be held so far this year, from the likes of Virgin trains, Clarins, Dogs Trust and Perrier-Jouët Champagne.
While these big brands have big budgets, you can still take inspiration from the type of events they hold and some of the awesome creativity on show…

Glossy women's magazine GLAMOUR has teamed up with Fiat to stage a reader event that brings its beauty pages to life. The Beauty Festival, to be held over the weekend of March 12-13 at London's Saatchi Gallery, features a programme of talks with beauty experts and complimentary pampering treatments.
Attendees can find out how to run their own beauty business from Jo Malone and Liz Earle, discover what goes into the making of a GLAMOUR cover with a celebrity photographer, make up artist and hair stylist and pop princess Rita Ora, or join a make-up masterclass with blogging sensation Pixiewoo.
Fellow beauty brand Clarins is also set to host a beauty and skincare pop-up experience, kicking off this Friday (February 19) at Westfield White City in London, before moving to the Birmingham Bullring shopping complex at the end of the month, and finally Edinburgh's Castle Street (March 18-26).
The Clarins Urban Oasis is designed to be a 'wellbeing haven' situated at the heart of the city. Visitors can journey through four different zones, activating each of their senses through touch, play and sound before finishing with a real time face projection in Clarin's face mapping pod to bring to life the effects a busy lifestyle can have on your skin.

Genius experiential marketing duo Bompas & Parr created the world's most daring whisky-tasting event in which tasters licked, sipped and sucked the liquor from the bodies of strangers aged the same as each whisky.
As a prelude to each 'slurp', each performer told the compelling story of their life to emphasise the full magnitude of the years the spirit has lain in cask, slowly gaining in complexity and maturity just as the performers have grown in themselves.
The project was a collaboration between Bompas & Parr, hotel brand Ace Hotel and The Gourmand journal. Photo credit Nathan Pask.
Bompas & Parr were at it again this month, creating a flower shop like no other in The London EDITION hotel for Valentine's Day.
The promotional event, run on behalf of Perrier-Jouët champagne, enabled visitors to pick up bouquets of colour-changing chameleon blooms. The flowers had been hand painted with a thermochromatic ink that changes colour when heated to 27 degrees Celsius.
Lovers could use their hot breath to transform the roses and orchids from a deep satin black to Champagne bottle green, exhibiting all the hues seen on the backs of beetles. Photo credit Bompas & Parr and Daniel Resende.
Virgin Trains was also sending out some love to their customers on Valentine's Day, by offering some very special 'singles tickets'.
The one-of-a-kind speed dating experience, saw singletons journeying from London King's Cross to York given the chance to join the Love Carriage.
The carriage was decked out with red roses, romantic music and prosecco to set the mood. Meanwhile, travellers switched seats throughout the journey to meet potential love matches, aided by one of the UK's top rated Maitre D's Fred Sirieix.
UKTV launched its premium entertainment channel, W, with a balloon-based treasure hunt. Singer Sophie Ellis-Bextor released hundreds of biodegradable balloons, each offering the chance to win one of five diamonds (the brand's logo features a diamond).
Being able to travel for hours and reach a height of five miles, the whole country was in with a chance of finding a balloon. Lucky balloon finders then simply had to follow instructions on the recycled card to enter the #WDiamondDash competition.
MicroChippy was an exclusive canine café pop-up, staged by Dogs Trust to raise awareness of the upcoming change in microchipping legislation.
The charity teamed up with gourmet hotdog and champagne bar, Bubbledogs, to create a bespoke mutt-friendly menu. The café also featured doggy beanbags and non-slip bowls, and the opportunity for owners to get their pets scanned and make sure their details were up to date.
Harris Tweed has teamed up with British photographer Ian Lawson to showcase its fabric in a new exhibition in Cumbria (open until 15 May).
'Harris Tweed: From the Land' charts the fabric's journey from its home in the Scottish Outer Hebrides to its role in the international fashion world. A working loom acts as a centrepiece, while also on display is a collection of Harris Tweed products and objects sourced from the weavers and designers that Lawson met when documenting the brand.
The exhibition also features a dedicated shop selling Harris Tweed products and a programme of associated films, talks, workshops and family events.
Intu shopping centre in Milton Keynes partnered with Dreamworks to run a series of children's events based around the animation studio's latest release 'Kung Fu Panda 3'.
The half term activities included sushi-making sessions, Chinese lantern making, Chinese fan craft and a martial arts masterclass. The event also offered participants the chance to win a Kung Fu Panda 3 prize bundle.
Italian risotto rice brand Riso Gallo enlisted Danilo Cortellini, Head Chef at the Italian Embassy in London and Masterchef: The professionals 2015 finalist, to present an authentic chef's table experience.
The event, at Venturi's Table in London, featured risotto as the guest of honour alongside Danilo's other signature dishes. Part of the income from the event was sent to 'La Scuola Italiana a Londra', a charity which helps students get bursaries and access to courses.
Global fitness brand Les Mills has partnered with Reebok to stage its biggest UK event to date at Excel London on 12 March.
Billed as 'the world's biggest fitness party', the event combines rock concert sound and lighting with a mass-workout for thousands of fitness lovers.

Westfield enlisted Condiment Junkie to conceive a unique multi-sensory food and drink experience for shoppers at its two London shopping centres.
The 'Tongue Twister' experience featured four sensory rooms where visitors could discover the impact each sense has on our perception of taste.
Features included a rainbow laboratory where visitors explored the impact of colour on taste and our judgement of flavours, and an aromatic extravaganza where guests created unique flavour cocktails.
Conclusion
All brands, no matter what size, can use promotional events to gain attention, deepen product understanding and build stronger relationships with their customers. Think outside the box for maximum impact!