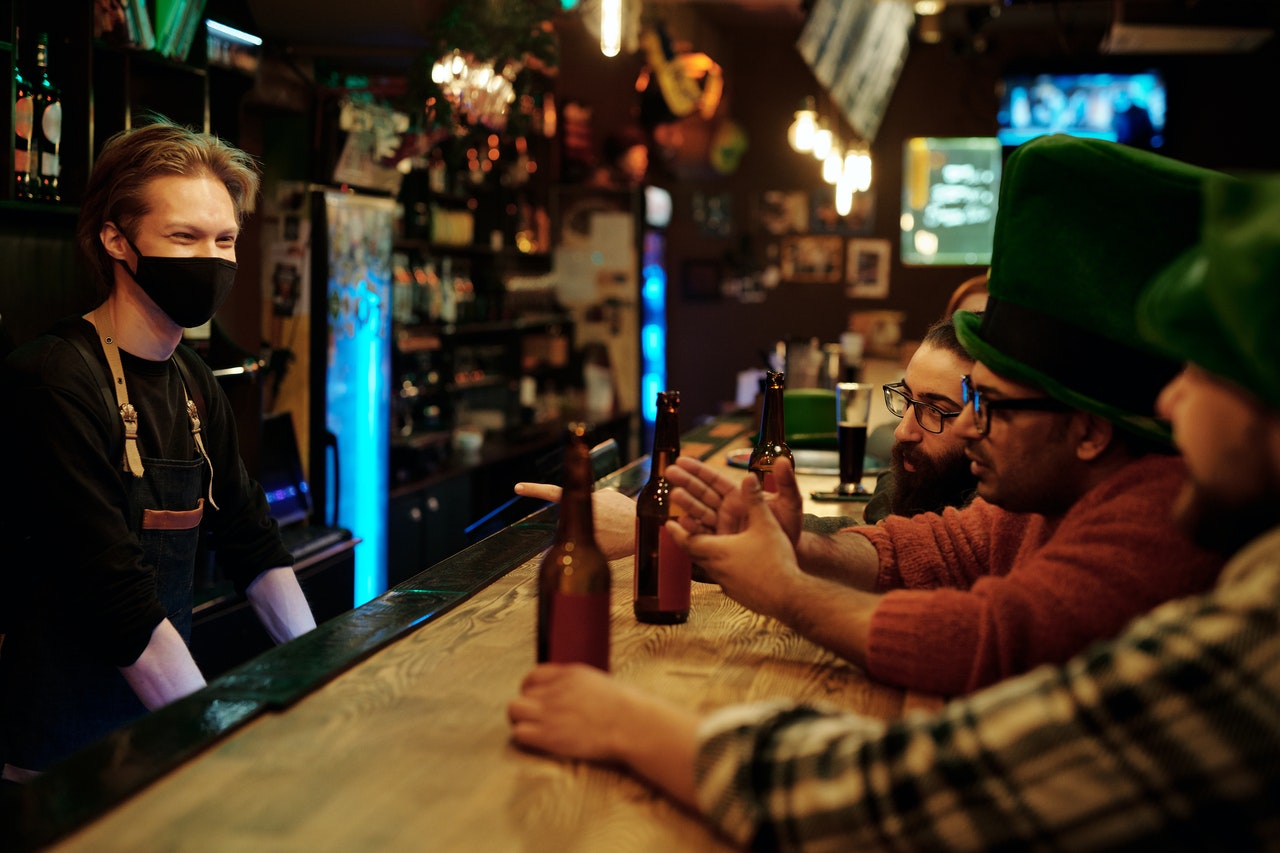 Event Ideas for St. Patrick's Day Celebrations in your Community
Did you know that St. Patrick's Day is celebrated in more countries than any other national festival in the world? Across the United States, Canada, Argentina, and New Zealand, among many others, people come together to embrace what it means to be Irish. Most years, parades reign the streets as people around the globe revel in the spirit of Irishness.
Although COVID-19 has limited our opportunities for celebrating St. Patrick's Day for the last couple of years, there is more scope this year to reignite the worldwide celebrations and enjoy ourselves (although it may still be wise to leave the 'Kiss Me, I'm Irish!' T-shirts in the wardrobe). Also, thanks to the growth and popularity of online events, it's also easier to bring people together, no matter where they are.
Why are there St. Patrick's Day events?
The way we celebrate St. Patrick's day in Ireland today is largely influenced by the Irish diaspora in the USA. Although the day is all about a Catholic Saint, the first St. Patrick's Day parades reported in the late 18th century in Boston and New York were actually led by Irish Protestants.
In Ireland itself, St. Patrick's Day was predominantly a religious celebration until 1903, when it was announced as Ireland's National Holiday. But it wasn't until the mid-1990s that the Irish government started a campaign to use St. Patrick's Day to showcase Irish culture. They set about creating a St. Patrick's Day festival to return ownership of the holiday to the Irish people, with trad sessions, theatre, and fireworks on the days surrounding 17 March.
How is St. Patrick's Day celebrated today?
In modern times, St. Patrick's Day is known for its big parades. New York City hosts one of the world's largest celebrations, with two million people gathering on Fifth Avenue to watch dancers, bands, and bagpipers. Here in Ireland, Dublin hosts its multi-day St. Patrick's Day festival with four days of trad sessions and rabble-rousing in Temple Bar. And, of course, Chicago dyes its river green.
Over 690 iconic landmarks across 66 countries will turn green to participate in Tourism Ireland's Global Greening Initiative. It started in 2010 to encourage landmarks worldwide to 'go green' for St. Patrick's Day. The Sydney Opera House and the Sky Tower in Auckland were first to light up in honour of our patron saint.
Events and activities for St. Patrick's Day
While throwing a parade may not be on your agenda, there are plenty of equally fun ways you can celebrate Irishness this year. Here are just some St Patrick's Day event ideas to get your Celtic juices flowing.
1. Get crafty
For a family-friendly event, why not organise a crafting workshop? Have attendees create shamrock wreaths, St Patrick's Day hats, or sock puppets themed around the day. The Dublin City Gallery is hosting an Origami snake puppet workshop on St. Patrick's weekend to help attendees delve into the legend behind the special day.
2. Irish cooking class
Host an Irish cooking class and show your guests how to prepare classic dishes such as soda bread, Colcannon, or traditional beef stew. This idea can also be easily pivoted to an online cook-along event.
3. Céilí dances
While Irish dancing is often a physically demanding discipline, it can be surprisingly accessible for people with a range of ability levels. Consider hiring traditional Irish musicians to accompany the festivities.
4. Irish poetry readings
Ireland has produced some of the world's best literature. Throw an Irish poetry evening and you'll be spoiled for choice, with classics like W.B Yeats, Samuel Beckett, and James Joyce, as well as more modern voices such as Seamus Heany and Rachael Hegarty. Serve Irish snacks and beverages alongside for a truly cosy and cultural evening.
5. Limerick festival
For a more interactive take on the Irish poetry night, consider a limerick competition. Limerick nights, which allow attendees to contribute their own lilting poems, are held year-round in the eponymous Irish city. St Patrick's Day is one of the best nights of the year to get involved in the lyrical tradition.
6. Irish music night
In addition to traditional Irish music, Ireland has also produced world-class acts – U2, The Pogues, Dropkick Murphys, The Cranberries, Sinead O'Connor, the list goes on. Host an Irish pop music disco, playing tracks strictly by Irish artists and bands, or stick to the same theme for a karaoke night.
7. Botanical tours
Allow guests to learn about the iconic shamrock with a botanical tour of your local area. The National Botanic Gardens of Ireland are hosting shamrocks and shillelaghs tours this year to explore how some Irish trees and plants are woven into Irish folklore and St Patrick's Day legends.
8. Whiskey tasting
For an exclusively adult event, hold a whiskey tasting. Again, you may want to consider hiring an Irish fiddler or two to add an extra level of atmosphere.
9. Film screening
Keep things cultured with a film screening, where guests can buy drinks and snacks and enjoy some classic Irish films. Our recommendations for feel-good films are The Commitments, Once, and Killing Bono, although you may want something more historical and thematic like The Wind that Shakes the Barley.
10. St Patrick's Day scavenger hunt
Liven up regular St Patrick's Day events by adding in a scavenger hunt element. Give teams a list of green or Ireland-themed items to take a photo of or bring back for the judges. The team with the most items receives points.
Host a virtual St. Patrick's Day event
Although 2022 has seen the return of many in-person events, virtual events have also recently given the global Irish community a way to celebrate. Virtual events are also more accessible, making them an inclusive way for communities to come together. In 2020, the hashtag #StPatricksDayTogether was used to collate everything from music livestreams and at-home céilí dances to pictures of pets dressed as leprechauns. If you need inspiration for how to celebrate St Patrick's Day at home, look no further than these virtual event ideas.
A traditional Irish scone-making class
Get inspired by Irish chef Vanessa Greenwood, who's hosting a virtual cook-along from her Dublin kitchen. Alternatively, centre your event around cookies in the shape of shamrocks, pint glasses, and other forms associated with St. Patrick's Day. Send the cookies to guests in advance and get them to bring the biscuits to life with colourful royal icing.
A virtual fundraising challenge
Interested in using your event to support a good cause? Follow in the footsteps of the Lucky Horseshoe St. Patrick's Day fundraiser. This virtual challenge is raising money for the charity Dream Riders, and it has two race distances to choose from – 5 kilometres and 10 kilometres – which are held over three days. Holding a virtual fundraising challenge like this can be highly effective since participants can take part from anywhere. Plus, adding a competitive spin will make your event fun and engaging for everyone involved.
An online Irish whisky tasting
Whisky Gourmet is hosting a virtual masterclass in which participants will learn how to nose and taste like a pro, then compare five Irish whiskies from iconic distilleries. Attendees are sent the samples in advance of the session. So, if you're planning to host a similar event, it's worth having a cut-off date for bookings to ensure that you can send out the samples in time. Alternatively, you could provide free access to the event itself, but require attendees to purchase their own bottle of the brand you're featuring if they want to taste along. This creates less admin for you on the logistics side.
Are you ready?
At its core, St. Patrick's Day is all about celebrating a community – both at home in Ireland and overseas. You just need to work out a way to appeal to as many people as possible, whether they boast heritage or not! The recent return to in-person events makes this year pretty special. So, give your attendees something to remember and use the ideas above to host a truly celebratory event.
Already have some ideas in mind? Sign up to Eventbrite and host your St. Patrick's Day event in a few easy steps.