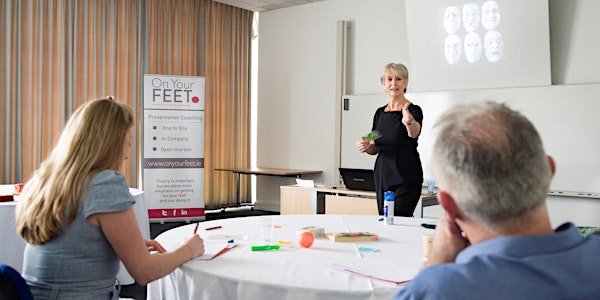 1 Day Presentation Skills Masterclass
Our highly interactive, videoed masterclass will help you bring your presentation skills to the next level.
When and where
Location
RDS Members 22-30 Merrion Road Dublin Ireland
Refund Policy
Refunds up to 7 days before event
About this event
Do you struggle to get your message across clearly when presenting?
Do you find it difficult to connect with your audience and keep them engaged when you present?
Do you wish you could look and feel more confident when speaking to a group?
✅ If you have answered YES to any (or all) of the above then you would benefit from joining us on this full day fast moving programme!
Who Would Benefit?
This programme is for those who wish to improve how they prepare for and deliver presentations.
Whether you are delivering a sales presentation, an update to your team, or speaking at a conference - honing your presentation skills can help you achieve the results you want.
While the focus is mainly on face to face presentations – the skills gained on this programme are relevant to any situation where you have to communicate verbally. This means that tools, techniques and skills are transferrable to help you to communicate with added impact in any virtual or face-to-face communications.
While we do cover theory, we do it in a way that facilitates learning by discovery, making the content easier to digest and much more memorable.
Although this is a group event, we make it personal to each attendee.
Before attending the programme we send you a link to our video platform. Through this platform, you have the opportunity to answer some short questions which helps us to get a better idea of your needs.
This means that even though it is a group event, the facilitator can focus on the individual needs of each trainee so that they can get the most from the programme.
🗨️ "I liked how much we were on our feet and all participated equally. By the end of the day I was much more comfortable speaking in front of everyone!"
The Aim of the Programme:
At the end of this full day programme, you will have gained tools to help you in your preparation, but more significantly will have been given personalised feedback to help you improve your performance.
What you will learn:
On completion of this programme, you will be able to:
Implement a simple 3-step matrix to prepare for success
Identify and enhance your own natural style
Use the SSS of presenting
Use body language effectively
Maximise vocal and visual impact
Control nerves
Present with increased self-confidence
Engage and connect with an audience
8 ways to open and 8 ways to close a presentation
Understand PowerPoint best practice
🗨️ "Thank you, I thoroughly enjoyed this. Although I do present on a regular basis, I still took a lot away and feel more energised to present going forward."
How we train:
This programme is participatory, fast-moving and will have you up on your feet more than once. We focus on you learning through discovery rather than "lecture-style" delivery.
We use a variety of delivery techniques to help make this programme varied and engaging.
You are asked a few short questions via video to help build awareness around your current skill set.
You will present twice. Once to video in the morning and again towards the end of the day.
You will receive 1 to 1 brief feedback, in a separate room, on your presentation style with very specific guidance on how to improve.
Flip charts will be used for brainstorming and gathering ideas.
There will be opportunities for you to contribute formally and ad hoc.
Individual reflection time
You will be split into small groups to allow you to discuss topics at certain points during the day.
Before the programme we send you a link to our video platform - typically you will receive this a few days before the programme. Your facilitator will introduce themselves to you and let you know a bit more about the programme. You have the opportunity to let us know a bit more about you and your specific needs via video to us. With the insights you share, we can address your needs as an individual even though you are on a group programme.
During the programme, we keep things highly participatory. In your brief one to one feedback, in a separate room, we highlight what is being done well and give very specific guidance on how to improve.
After the programme, you will be given lifetime access to a client only area on our website where we have helpful videos, books, talks, blogs and in-depth downloadable programme notes.
🗨️ "I would highly recommend this course for anyone looking to build their confidence and help with presentation skills. I feel I came away a different person. Rather than dreading doing a presentation I now feel a lot more positive, and feel excited to do it."
What is included?
The price includes the following:
1 full day programme
Supply and analysis of individual video submission
Videoing of participants using our equipment
One-to-one personalised feedback
Private access to our useful resources
Coffees and pastries on arrival
A tasty lunch to recharge your batteries, and refreshments throughout the day!
While there is an overall atmosphere of fun, there is also a serious amount of learning taking place. In order to strike the best balance between personal attention and supportive group dynamics, places are limited to 8.
Make sure to book in advance to avoid disappointment.
Want to book more than 1 person on the programme?
We offer discounts for multiple bookings:
Book 3 people - 10% discount
Book 5 people - 15% discount
Email info@onyourfeet.ie to arrange the booking.
🗨️ "I found the course and trainer to be excellent. I could clearly see the improvement in both my own presenting skills and those of my fellow participants by the end of the course."
FAQs
What are my transport/parking options for getting to and from the event?
There are many options for getting to the event. We send a comprehensive email the week before with all the details.
Do I have to bring my printed ticket to the event?
No.
Can I update my registration information?
Yes you can. Please email us at info@onyourfeet.ie to arrange.
Can I get a refund if I can't attend the event?
Full refunds are available up to 7 days before the event.