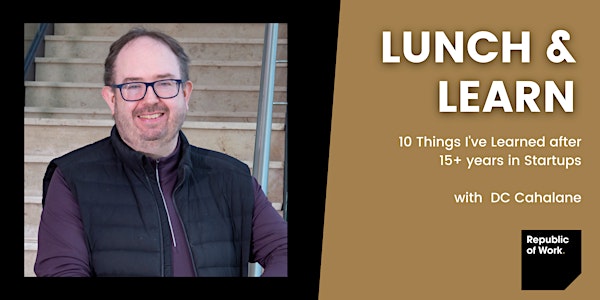 10 Things I've Learned after 15+ years in Startups
Key Lessons from 15+ years with startups that every startup founder should know about.
About this event
Republic of Work are delighted to partner with DC Cahalane for this Lunch & Learn to discuss the 10 Things he has Learned from his 15+ years in dealing with startups.
DC Cahalane, Dogpatch Labs
A passionate advocate for startups - DC works with Dogpatch Labs on the acceleration of Ireland's startup ecosystem. Locally in Cork, DC founded Republic of Work and BUILTINCORK and was previous VP Growth at Teamwork and CMO at Trustev.
After more than 15+ years working in and with startups, DC Cahalane has seen it all. In this Lunch and Learn he'll share just a few of the many hard lessons he's come across in working with some of Ireland's most successful startups.
Learning outcomes from this session focusing on Key Lessons that every Founder should know about will include:
Don't scale your technology until it works
Starting a business has never been easier, succeeding has never been harder
Don't take money from strangers
Start Small but be ambitious
Attention without activation is the greatest sin in marketing.