12th West of Ireland Integrated Diabetes Care Conference - Fri 8th & Sat 9t...
Description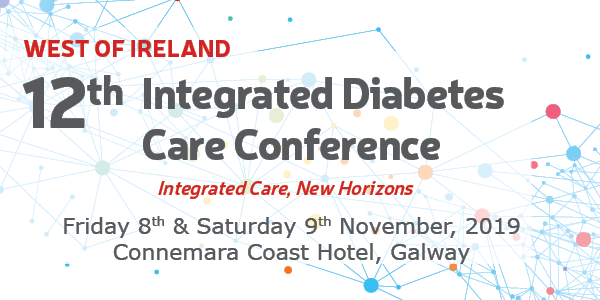 Friday, November 8th
18.30 – 19.30 Registration & Poster Session
19.30 – 21.30 Dinner & Guest Speaker
(more information coming soon!)

Saturday, November 9th
Plenary session
Plenary session on National Best Practice in Integrated Care (more information coming soon!)
Workshops
Delegates to choose 2 out of the 4 workshops
Option A:
Renal complications in people with Type II diabetes
Dr David Lappin

Option B:
Self-Management Support – What's happening in Ireland
Ailish Houlihan & Maeve McKeon

Option C:
GDM and Type II prevention
Prof Fidelma Dunne

Option D:
Erectile dysfunction – psychological issues
Dr Cathy McHugh
Complimentary overnight accommodation is available at the Connemara Coast Hotel for those travelling from outside of the Galway area. This is offered on a first come, first served basis.
Please note: Accommodation is limited and not guaranteed until you receive final written confirmation from NIPC. Please register by no later than Friday, October 11th, 2019.