14 Day Detox: Kickstart your health now
About this event
Are you:
feeling sluggish?
having cravings?
feeling down?
finding your body is not working as well as it used to?
This 14 day programme can make you feel so much better, it isn't a fad diet, nor will you starve. Instead, we'll focus on reducing your overall toxic load and nourishing your body and mind from the inside out.
And that's not all, we wont be looking at diet alone! I am super excited to have partnered with the lovely Eileen from Eileen's Pilates Magic and she will be creating 4 bespoke pilates classes for you to do over the 2 weeks with us.
This 14-day programme is for you if you want to:
• Gently and safely support your body's detoxification process
• Jumpstart your weight loss and cut cravings for sugar and carbs
• Feel more energised – say goodbye to the 3 pm slump!
• Sleep better at night and wake up refreshed
• Rebalance your hormones
• Support your digestion and banish bloating
• Reduce aches and pains
• Reset your body – get into fat-burning mode by eating nutritious food that nourishes your body and soul
• Focus on your own needs for once – now's the time to futureproof your health
• Best of all, do it all naturally, without supplements & without rigid meal plans
What's Included
Detox Success Manual: 17-pages on how to, why to, what to, that you can keep coming back to forever
Detox Recipe Book: featuring 30 delicious whole food recipes to nourish your body and relieve digestive issues. The food plan cuts out all gluten grains, refined carbs, dairy products and nightshade foods. It is low GL (to help keep your blood sugar balanced) and brings in foods that support the body's natural detox processes.
Detox Progress Tracker: get clear on where you are and note your progress, the ultimate accountability assistant - aside from me and our private group of course ;)
Printable shopping lists: you'll get the lists for the meals, but this is a pick-and-choose the recipes you like programme so you will get blank lists too
Support, inspiration and motivation in a dedicated Facebook group
Daily motivational & inspirational emails for the duration of the detox
2 x 30minute Q&A sessions with Emily, a certified Health & Nutrition Coach
4 x 15minute pre-recorded Pilates sessions with Eileen from Eileen's Pilates Magic specifically tailored to improve your flexibility and support your lymphatic drainage system - that's the system that will get rid of those toxins and fats we don't want!
BONUS - 15 Ways to Detox Your Home eBook: no point in clearing out what we put INTO our body without looking at what goes ON to it or what we inhale, you'll find this super useful if you are looking for an all-round upgrade on how you feel daily.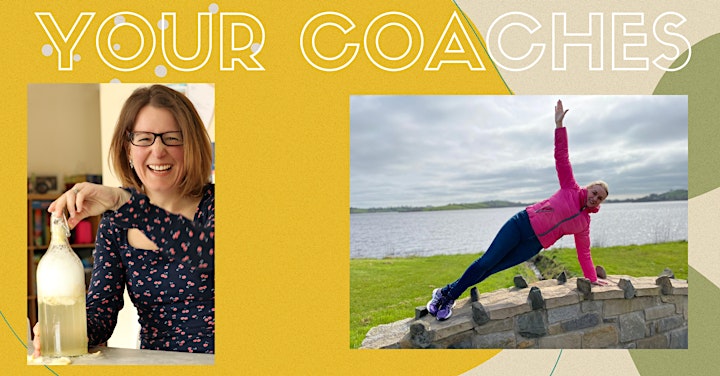 Emily Magee (Adv Diploma & QQI Distinction in Nutrition & Health, Health Coach Certification)
Emily has a family history of diabetes & auto-immune conditions & is determined to share the knowledge that there are things within our control, that can make us feel better, look better & safeguard our health for the future!
A fussy eater herself in the past, Emily is now on a mission to help others create a life that doesn't support disease. She continually updates her knowledge in all matters gut health & blood sugar balancing & helps people get more control over their own health status and improved blood test results at the doctor's.
In this day and age, it's the little things we do to protect our health daily, from within, that will help us win the race of life.
Eileen Hughes
Eileen has made fitness part of her everyday life for the past 35 years, having first qualified as an Exercise to Music teacher back in the late 1980's. She continued her fitness education in various programs and having gained many different fitness qualifications it was only when she developed back pain that she first was introduced to Pilates. Through Pilates practice, she became pain free, and she then added to her list of qualifications by training as a Pilates teacher.
She now promotes Pilates as one of the best ways of getting a strong, flexible body, particularly for the over 40's.
Eileen promotes wellness through movement and has a strong desire to make high quality Pilates programs accessible to all. She offers online Live Pilates classes in addition to offering Pilates on demand by providing pre-recorded classes that are updated each month.