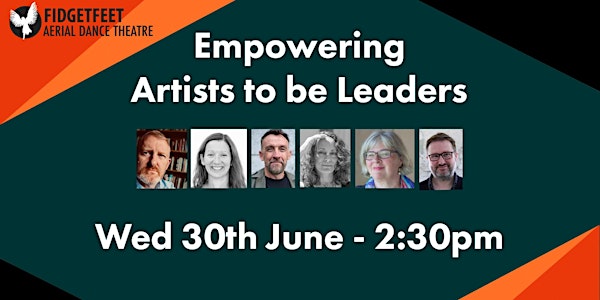 Empowering Artists to be Leaders
Fidget Feet artists launch their 5-year strategic plan 2022-26
About this event
Fidget Feet will launch their 5 year strategic plan for 2022-26.
With guest speakers:
• Amelia Rudolph - Bandaloop
• Louise Richards - Motionhouse
• Andrew Loretto - Hat Fair Theatre
• Mark O'Brien - Abbey Theatre
Facilitated by Mark Robinson, author of Thinking Practice, and Susanne Danig, of Danig Performing Arts Service.
This event launches and celebrates Fidget Feet's first ever Strategic Plan for 2022-26. This work was made possible by funding from the Arts Council's Capacity Building Support Scheme.
One week before the event we will email you our Strategic Plan so you can read it before the event if you wish.
Part 1
Chantal McCormick and Fidget Feet artists, with Susanne Danig of Danig Performing Arts Service and acting Chair of Fidget Feet Maria Fleming, will talk about the process of writing a Stategic Plan. This plan was created by Creative Director Chantal McCormick with consultant Susanne Danig, seven core Fidget Feet artists, the board, and staff.
"What do you think of when you hear strategic plan or when you are asked to write a personal work plan of 1 to 3 to 5 years!! If you're like me (Chantal McCormick) "oh god we do not have the time for this", or "I am an artist, just let me make the work", "what are you supposed to do anyway, it is a waste of time", "how can we afford it", "what is it for, it is all pie in the sky, who is it for, who can help me", etc etc."
Whatever your inner conversation may be, this talk is for you. Chantal and the other artists would like to share with you how the process was, what the learnings are. We all agreed that Fidget Feet is a family and we are an artists-lead performance company, so if we going to do a Strategic Plan then we'll do it as artists. We used this process to empower us, and now share this learning to help other artists to be leaders in their own artistic journey when creating important documents.
Part 2
In the second half of the event you will get to hear from four international creative leaders that Chantal interviewed as part of her research in writing the Strategic Plan. All five leaders started their journeys as artists and are now wearing many different hats, and are all extremely inspiring. We have invited Mark Robinson to facilitate this part of the event to really open up a juicy conversation on artists and leadership.
After each session you will have an opportunity to write questions in the chat.