Multiple Dates
2016 Dr Ken's 'It doesn't Add UP' Show suit all ages (parents require ticke...
Description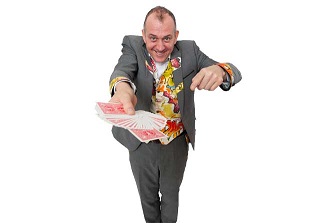 Roll up roll up and explore the science behind the thrills and spills of the circus.
Pick a card any card, count to ten and think of a Number. Correct!

Does it add up? Is it really magic or maths?
A show that is less sleight of hand and more dexterity in Maths.
Amazing magic tricks are performed and the maths revealed.
Find out about card tricks, solving the Rubik's cube under pressure, the maths of juggling, shape shifting numbers and other astounding stunts and marvellous trickery you can try at home!!!!
It's science but not as you may know it!!!
Check out Dr Ken on http://www.tes.co.uk/teaching-resource/The-Circus-Comes-to-School-6063927/
What other people have said:
'We want to become scientists now!!'
Eleonor and Rhianonn Landsdowne Primary Pupils
His sessions were high-energy, motivational and thoroughly enthused
large groups of students. First-class!
Anu Ojha, Director of the Space Academy Partnership (National Space Centre)
and Advanced Skills Teacher
'The perfect person to help make science interesting' -Eastern Evening News
www.dodifferent.co.uk
Tel: 01508 473 016