| | |
| --- | --- |
| 2016 Exploration Star Dome | |
Event Details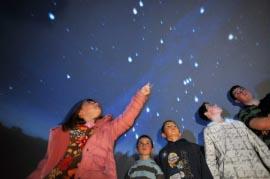 OASIS IN SPACE transports the audience on a startling
and beautiful voyage through our universe, galaxy and
solar system in search of liquid water, a key ingredient
for life on Earth.
We invite you to journey through the solar system and gaze at beautiful images of the planets and their satellites. We start by exploring Earth, with its vast oceans that make life possible. One by one, we fly by the other planets and moons, accompanied by full descriptions of their characteristics, such as atmosphere, temperature, and composition. Spectacular pictures invite audiences to draw their own conclusions about the other orbiting bodies in our solar system: is there water out there? Is there
life beyond Earth?
Suitable for all ages.  
Parents and children require tickets.
When & Where

The Red Zone
Outside
Bailey Allen Hall
NUI Galway
Ireland


Organizer
Galway Science & Technology Festival Exhibition - Sunday 27th November 2016 (Free Event)
Exhibition time:  10am - 6pm 
70% of Tickets were released on Saturday 19th November
The remaining 30% of places will be available on the day - just queue up at the show/workshop you wish to attend and spare places will be given to peope without tickets.
Please take note of the following:
No need to print tickets if you have a smart phone - just show your tickets on your phone.
Come early to avoid the crowds, especially if you have no tickets and want to attend a show/workshop.
Arrive 10 mins before the time of the show otherwise when the show begins your seat will be given to people in the queue.
To keep up-to-date with all our news - like us on Facebook & use the hashtag #galwayscience on Twitter
Printing Tickets: Download the Eventbrite App & save printing your tickets
2016 Exploration Star Dome