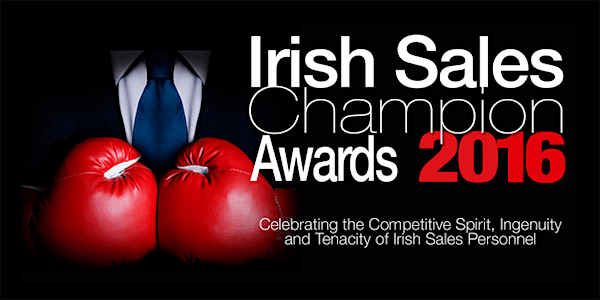 2016 Irish Sales Champion Awards
When and where
Location
Guinness Storehouse St James's Gate Dublin 8 Ireland
Description
The 6th Annual Irish Sales Champion Awards celebrates the competitive spirit, ingenuity and tenacity of Irish sales personnel on the front line. Those who laugh in the face of adversity. Those who manage to take on every challenge with a will to win. The ISC Awards acknowledge these positive individuals in three key areas: Sales consultants/representatives; Behind the scene sales support; Technology/Sales tools providers.
The ISC Awards was set up in 2011 to recognise the sales professionals continuing to deliver results with enthusiasm and integrity despite the economic climate. They recognise those who support, motivate and train them and the technology that supports them.
2016 Categories
The 6th ANNUAL IRISH SALES CHAMPION AWARDS event takes place on THURSDAY JUNE 16th, 2016
Enteries now being accepted in all categories.
Closing date for entries is Friday, April 22nd.
Make sure you're there to see who wins and hear details of their winning strategy:
Categories :
1. Tele-Sales Champion
2. Champion Tele-Sales Manager
3. Field Sales Champion
4. Champion Field Sales Manager
5. Digital Sales Champion
6. Inside Sales Champion
7. Champion Inside Sales Manager
8. Champion Sales Advisor/Consultant - Financial Services
9. Champion Sales Team
10. Champion Sales Campaign
11. Champion Sales Support Team
12. Champion Outsource Sales Partner
13. Best Implementation of Sales Technology
14. Best Sales Training Programme
15. Irish Sales Champion of the Year
WHO SHOULD ENTER & WHY?
Contact centre sales professionals – both in-house and outsourced
High performing FMCG sales professionals
Field sales organisations
Digital sales professionals
All organisations with excellent sales support teams
Sales consultants/advisors in the areas of Financial Services (Insurance, Pensions, Investments) and, Telecoms and IT
All organisations who have implemented comprehensive sales training programmes in the 12 months prior to December 31st 2014
All technology companies who have delivered quality sales support tools to clients in the 12 months prior to December 31st 2014