2017 Richard III - The King under the car park by Mathew Morris, Archaeolog...
Description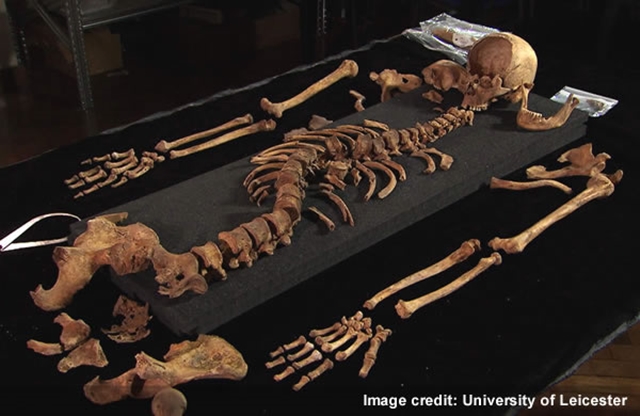 Richard III: The king under the car park in partnership with the British Council
The discovery of King Richard III's remains during an archaeological excavation in 2012 was a world-wide sensation; a 500 year old missing persons case bought to life through modern archaeological and forensic investigation. In Richard III: The king under the car park, Mathew Morris, one of the lead archaeologists on the Grey Friars Project, will reveal how this amazing discovery was made; examining the background to the project, showing how archaeologists knew where to look and what was found during the excavation, and taking a close look at how forensic scientists were able to successfully identify 500 year old skeletal remains as Richard III, the last Plantagenet king of England (d.1485).
Mathew Morris MA ACIfA
Project Officer, University of Leicester Archaeological Services
Mathew has worked for University of Leicester Archaeological Services (ULAS) since 2004, excavating a wide range of rural and urban archaeology across the Midlands, from the prehistoric period through to the Industrial Revolution. He graduated from the University of Leicester in 2003 with a BA in Archaeology and an MA in Landscape Studies; his interests include urban archaeology, community archaeology and Roman and medieval archaeology.
Notable projects include the Highcross Leicester retail development, a massive multi-period urban excavation investigating the north-east quarter of the Roman and medieval town; the Western Road Roman cemetery in Leicester, work on Leicester Castle and the Leicester Greyfriars, and the first excavated section of the Lower Icknield Way at Aston Clinton in Buckinghamshire.
In 2012, he supervised the successful archaeological search for the lost grave of King Richard III. He has co-authored two popular books on Leicestershire archaeology, Visions of Ancient Leicester (2011) and Richard III: The King under the Car Park (2013) and in his spare time he helps run the Leicestershire branch of the Young Archaeologists' Club.