| | |
| --- | --- |
| 2019 Swim for a Mile - Tralee | |
Event Details
Swim for a Mile or Half a Mile.
Kerry Recreation & Sports Partnership has teamed up with Tralee Regional Sports & Leisure Complex to offer this unique programme in conjunction with Swim Ireland's Swim for a Mile Challenge. 

This year we have introduced a significant change for the benefit of everyone.  The aim of the Swim For A Mile programme is to complete a mile swim in a fun participation based event.  So in order to qualify all participants on the 12 week coached programme will have to register for the Swim For A Mile event - https://www.swimforamile.com/.  As a means of spreading the costs all participants will need to be signed up to the event by week 5, in order to continue with the programme.  In Kerry there will be 3 locations facilitating the swim for mile challenge with separate sessions for Adults & Youths.
Event Dates – Tralee 28th April 2019 / Killarney 26th April / Ballybunnion 27th April.
Summary of our Swim for a Mile Tralee coached sessions:-  
Afternoon Sessions:          Mon, Tue, Wed, Thur 12-1pm 
Evening Sessions:             Mon & Wed 9:15-10pm 
                                         Tue & Thur 9:00-10pm 
Weekend Session:             Sun 5-6pm
Costs:                               12 Week Coached Programme = €50 for non-leisure
                                        centre members / €40 for centre members. 
                                        Book via http://www.kerryrecreationandsports.ie/
                                        Swim for a Mile Event Challenge = €30 Adults.
                                        Book via https://www.swimforamile.com/
Not sure if you're able for the program?  Try our Pre-programme Taster Session on Sunday January 27th at 5-6pm. Chat to our instructors & have an informal assessment for suitability. 
Swim for a Mile is opened to all persons aged 15yrs and over. All participants should be able to swim 2 lengths.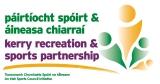 Where

Tralee Regional Sports & Leisure Centre
Address
Tralee
Ireland