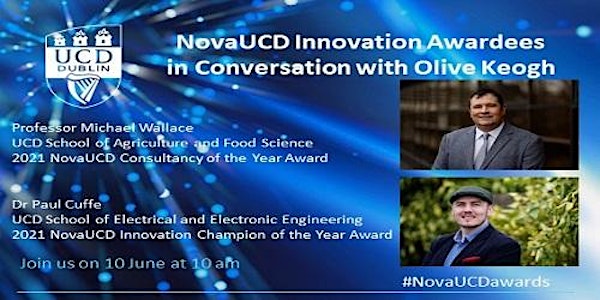 2021 NovaUCD Innovation Awardees in Conversation with Olive Keogh Series
Journalist Olive Keogh chats with Prof Michael Wallace, Dr Paul Cuffe about their research, consultancy, promotion of an innovation culture
About this event
Background
Join us on Thursday 10 June at 10 am as journalist Olive Keogh chats with 2021 NovaUCD Innovation Awardees Professor Michael Wallace and Dr Paul Cuffe.
Last March Michael received the 2021 NovaUCD Consultancy of the Year Award for a consultancy study entitled the 'Economic Impact Assessment of the Tillage Sector in Ireland' commissioned by Tillage Industry Ireland through ConsultUCD.
Paul received the 2021 NovaUCD Innovation Champion of the Year Award, for his dedication to working with UCD engineering programme students, to unlock the commercial trajectory of their final year dissertation projects.
Olive will chat with Michael and Paul about their respective research interests in Agriculture and Engineering and will discuss the topic of consultancy with Michael and will discuss with Paul how he promotes a culture of innovation and an interest in commercialsation with his undergraduate and postgraduate engineering students.
Prof. Michael Wallace
Professor Michael Wallace is an agricultural economist in the UCD School of Agriculture and Food Science.
His recent consultancy study for Tillage Industry Ireland revealed that the Irish tillage sector generates economic outputs of €1.3 billion per annum and supports 11,000 jobs, and provides an evidence base to support future development planning for the sector, identifying the sector's integral economic contribution to the agri-food industry specifically and the national economy more generally.
Dr Paul Cuffe
Dr Paul Cuffe is a researcher in the UCD School of Electrical and Electronic Engineering. His research interests include the optimization and analysis of electrical energy systems, with a particular current focus on the potential role of blockchain technologies to facilitate renewable generators.
As an innovation champion Paul is dedicated to working with students in engineering programmes, undergraduate and postgraduate, to unlock the commercial trajectory of their final year dissertation projects. These final year projects are a real opportunity to prototype creative new inventions, which ideally the student themselves can carry forward after graduation.
Olive Keogh
Olive Keogh has an extensive background in business and technology journalism and has been writing the New Innovators column in The Irish Times, which focuses on start-up companies, for the last 10 years. She is a weekly contributor to the paper's Business, Technology and Innovation sections writing about innovation, work culture and young companies and contributes to the Life Science pages with a focus on MedTech innovation.
#NovaUCDawards