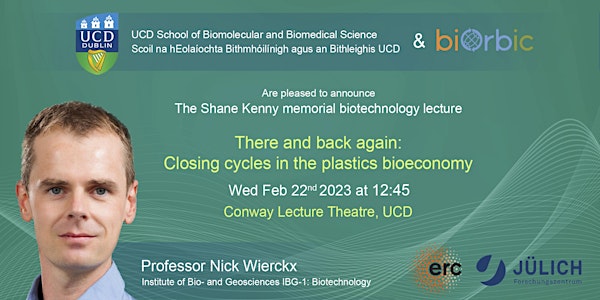 2023 Shane Kenny Memorial Biotechnology Lecture
The lecture will be presented by Prof Nick Wierckx from the Institute of Bio- & Geosciences IBG-1: Biotechnology, Forschungszentrum Jülich
By BiOrbic Bioeconomy SFI Research Centre
Date and time
Wed, 22 Feb 2023 12:45 - 13:45 GMT
Location
Conway Lecture Theatre, University College Dublin Conway Institute Belfield Ireland
About this event
UCD School of Biomolecular and Biomedical Science, along with BiOrbic, SFI Bioeconomy Research Centre are please to announce the 2023 Shane Kenny Memorial Biotechnology Lecture.
This year Professor Nick Wierckx from the Institute of Bio- and Geosciences IBG-1: Biotechnology, Forschungszentrum Jülich will deliver the lecture "There and Back again; Closing Cycles in the plastics bioeconomy"
This will be an inperson event taking place in the Conway Leature Theatre, UCD on the 22nd of February at 12:45 - https://goo.gl/maps/JDMzKPj98hJtq5hLA
All welcome! We look forward to seeing you there.
About the organiser
BiOrbic is Ireland's national bioeconomy research centre, funded by Science Foundation Ireland.