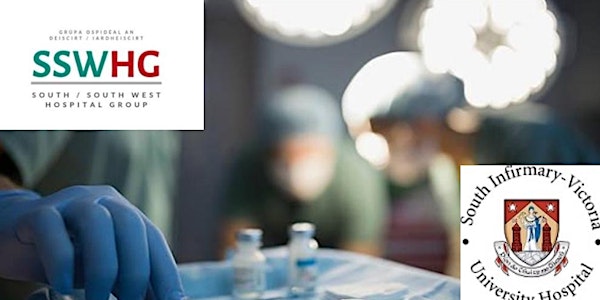 2023 Theatre Foundation Programme- South South West Hospital Group
2023 Theatre Foundation Programme South South West Hospital Group
When and where
Location
South Infirmary Victoria University Hospital Old Blackrock Road Cork Ireland
About this event
The Peri-Operative Senior Nurse Group SSWHG presents the three day Theatre Foundation Programme 2023 (6.5 NMBI CEU credits awarded per day.)
The aim of the programme is:
Delivery of safe quality, effective nursing care
To further improve patient experience
Contribute to a positive experience for nurses new to Operating Department
The programme is approx. 15 weeks duration incorporating three face-to-face theoretical days.
Generic Operating Dept; Clinical Competencies (5 Domains) are achieved through a TFP competency booklet framework with sign off at internalisation level in participant parent hospital under the supervision of a mentor.
Criteria for completion includes: Attendance at all 3 theoretical days; shared learning via presentation delivery and return of completed competency booklet.
Previous feedback includes: "Excellent course which has enhanced my knowledge which I can bring back to the theatre department", "Introduction to anaesthetics very interesting" and "Very well ran programme – applicable to daily working life".
Saturday 21st January 2023 (approx 08:00hrs to 16:00hrs)
Saturday 4th February 2023 (approx 08:00hrs to 16:00hrs)
Saturday 25th February 2023 (approx 08:00hrs to 16:00hrs)
NB. The programme is undertaken over a 15 week period. Full Attendance at all 3 Theoretical Days is a compulsory requirement in order to successfully complete the course. If you cannot attend a session, you will not be eligible to complete the course.
Please note that this application is NOT a confirmation of a place on this course. A place will only be confirmed once you receive an email from the course organisers.
While every effort is made to ensure the dates and times set out above will be adhered to, please note that the organisers reserve the right to cancel the event, or amend any day of the course or daily start or finish time of the course as required, or owing to exceptional events or speaker availability.
Candidates will be notified of any necessary change required.
Please note the SIVUH is utilising www.eventbrite.ie for the processing of your application. You will be required to consent to the processing of data, during the application.
Any data collected by SIVUH for this application will be used for the purpose of the application process and contact throughout the course only. If you have not secured a place on the course your data will be securely destroyed/deleted.
If you have secured a place, your data will be kept only for the duration of the course, to allow for communication with participants and will be securely destroyed/deleted once the course is completed and any competency books have been received and feedback provided or you leave the course.
Any Data collected by Eventbrite during this application will be processed as per the policies of Eventbrite.
Photographs may be taken during the course, for use by SIVUH at a future point for advertisements internally and externally for events, course advertisements, SIVUH public social media accounts such as Twitter, Facebook etc. You will be asked in your application as to whether you consent to same.