Description

Expanding on the success of the inaugural Dublin Guitar Symposium 2017, this event will gather some of the most distinguished and highly regarded scholars and musicians of the classical guitar.
Over the past twenty years or so an explosion in classical guitar research has been gradually redressing the balance for what James Tyler described as a 'neglected' instrument. It is now understood that musical practices, and to some extent the
study of musical practices, of the classical guitar are technically, aesthetically and culturally mediated by the instrument. The theme of the Dublin Guitar Symposium examines this interface across a broad range of musical activities and perspectives.
This conference presents the most important recent trends in classical guitar
research broadly divided into two areas: historical (day 1) and contemporary (day 2) perspectives.; The first examines such critical areas as repertoire stylism,
improvisation and performance practice; the second broaches issues such as performance studies, organology and the compositional process, and so forth.
With distinguished international figures Mark Delpriora (Manhattan School of Music, The Juilliard School) and Professor Steve Goss (IGRC, University of Surrey; Royal Academy of Music) delivering the keynote addresses, the conference is sure to contribute critical insight and understanding to guitar-related research. We are delighted to welcome renowned guitarist Pavel Steidl to the National Concert Hall of Ireland for an evening recital.

Conference Committee:
Eoin Flood, Chair (DIT Conservatory of Music and Drama)
Marco Ramelli, Programme Chair (DIT Conservatory of Music and Drama)
Morgan Buckley (Carlow College)
Kerry Houston (DIT Conservatory of Music and Drama)
Matthew Mazanek (Royal Irish Academy of Music)


Conference Advisory Committee:
Damian Evans (DIT Research Foundation for Music in Ireland)
John Feeley (Independent)
Maria McHale (DIT Conservatory of Music and Drama)
Michael O'Toole (Waterford Institute of Technology, Royal Irish Academy of Music)
Adrian Smith (DIT Conservatory of Music and Drama)
Steve Goss and Mark Delpriora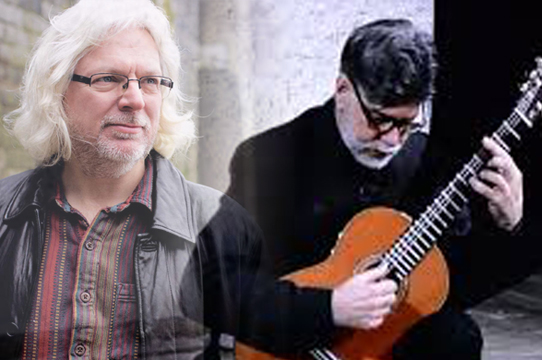 Pavel Steidl