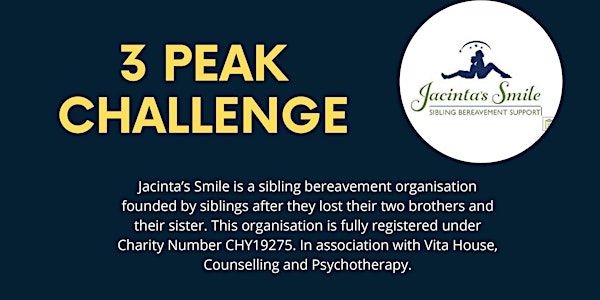 3 Peak Challenge, Fundraising Event in Aid of Jacinta's Smile .
Fundraising Event- Climbing 3 Peaks in one day to raise money for Jacinta's Smile- Sibling Bereavement Charity. Challenge Yourself!
When and where
Location
Donegal/ Muckish Mt, Mackoght, Errigal Gortnaleck Donegal Ireland
About this event
Donegal 3 Peaks Challenge
1. Muckish Mountain, 666meters
2. Mackoght, 555meters
3. Errigal Mountain, 751meters
The Northwest 3 Peaks Challenge will see you climb 3 icons of county Donegal starting with Muckish Mountain, the early morning ascent of what is known locally as the pigs back takes us up the Miners Track to this near tabletop summit, our decent takes us down the opposite side of the mountain giving us views of our next two targets.
Following a lunch break we embark on our way to Mackoght which will also take in Errigal in one looped walk. Mackoght or Errigals little sister sits at a respectful 555meters high, and its summit provides breath-taking views over the surrounding peaks and of course Errigal our final peak. A short walk from Mackoght takes us to the base of Errigals main climb where we turn upward until we top out on this twin peak summit which boasts some of the finest views in the country.
Please be aware over the day you will walk 15km and climb just over 1000 meters meaning this challenge is strenuous and should be trained for even if you keep regular a fitness routine. You will find information with your sign-up pack on training guidance.