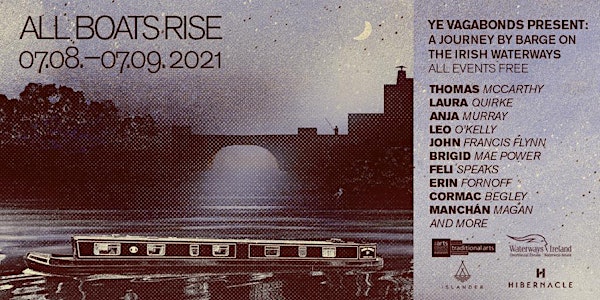 30th August 2021: Ye Vagabonds w/ Niamh Bury (acoustic) - Enfield Harbour
Event Information
Location
Enfield Harbour
Down By The Canal
Enfield Harbour
Ireland
We perform an acoustic show at Enfield Harbour with Niamh Bury.
About this event
In order for us to be covid compliant and to be within guidelines, we need to keep numbers down. Tickets are free but we would really appreciate you getting one so that we know how many of you we get to play to. We will email you all further details on the exact location before the show!
THINGS TO NOTE!
1 - There are no amenities in these spaces. There are no bathrooms, seats, shops or anything else. Please wrap up warm and bring a blanket to sit on if you so wish.
2 - Please help us out and ensure that you are an adequate distance from others and that everyone is enjoying the show in a safe manner.
3 - The point of this tour is to respect our beautiful country and to not be wasteful. Please take away anything that you bring with you to the space.
4 - There will be signage along the way and we'll email you details as we get them on the exact location.
Looking forward to seeing you all.
Brían & Diarmuid
Date and time
Location
Enfield Harbour
Down By The Canal
Enfield Harbour
Ireland