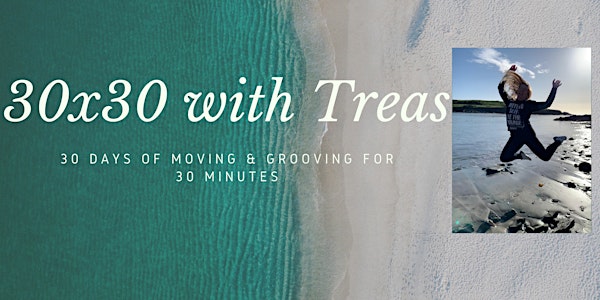 Multiple dates
30x30 with Treas May 2022
30 minutes of dancing for 30 days that will keep your mood bright, your spirits high and your body moving starting on Friday April 1st!
By Treasa Spragg, Switch on Happy
Date and time
Mon, 28 Feb 2022 16:00 - Thu, 1 Jun 2023 16:00 PST
About this event
April is here! How's the year been going for you? Here's a way to start (or end) your days with joy-making movement! My Zumba(r) classes aim to bring sunshine, laughter and dancing into your days, straight into your living room or kitchen! And the beauty of them being virtual is that YOU choose the time every single day that suits YOU.
The mental health, physical and emotional benefits of moving and dancing are enormous. Making and taking time for yourself is really important and helps you to give what you need to others too. Of course, partners and kiddos can join in for a bop too.
So, how does it work? One of the joys of this programme is that YOU get to choose how it works best for YOU. From midnight, you'll have access to a 30 min Zumba® class to take at whatever time suits you (and you're welcome to do it more than once if you want to). You'll see a link to click on and a box to insert that day's "Student Code" and off you go. You can cast the class to your tv or use a cable or can do the class from your laptop, computer, ipad or even phone.
What if I can't make every class? Not to worry, the classes are repeated each day. No matter how little you manage to do, every step will be a step into health for you.
The Cost! At €40 for the month, each class will only cost a little bit more than €1 per day. Please request to join the Facebook group "30x30 with Treas" once you're signed up as all the information and links will be there each day. If you're not a Facebook user, email me at hello@switchonhappy.com so that we can arrange the best way for you to receive the details.
I'm so looking forward to connecting with you.
x Treas
PS: feel free to email me if you'd rather pay by revolut and avoid the eventbrite charges!
About the organiser
I aim to make you laugh and move and feel happier and lighter and in a better mood through my easy-to-slot-into-your-day Zumba classes.