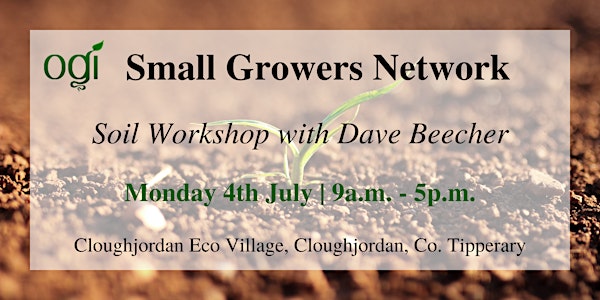 Small Growers Network Soil Workshop
The OGI's Small Growers Network members are invited to attend a workshop on soil health with Biological Soil & Farm Researcher Dave Beecher.
When and where
Location
Cloughjordan Ecovillage WeCreate Workspace Cloughjordan EcoVillage E53 VP86 Cloughjordan
Refund Policy
Refunds up to 7 days before event
About this event
General Information
This event is open to all members of the Small Growers Network. If you are not a member of the OGI's Small Growers Network, but would like to join, please send an email to Kitty Scully, the coordinator, to express your interest in joining at smallgrowersnetwork@gmail.com. Tickets are limited so register early to avoid disappointment. This is a paid event.
Soil Workshop Information
The Organic Growers of Ireland's Small Growers Network are hosting this workshop on soil health with expert Dave Beecher. The aim of this workshop is to give the participants a greater understanding and appreciation of soil and its connection with plant, animal, human and planetary health.
The objectives of this workshop are:
Explore diversity within the Soil Food Wed
Examine our impact on the Soil Food Web
Establish good composting techniques
Discover the benefits of worm farming
Create our own fertilizer
Visual evaluation of soil structure (VESS)
Review case studies that are putting all the above into action.
The above objectives can be adjusted and added to depending on the needs of the Small Growers Network participants. Topics such as soil chemistry, soil sampling, sap analysis, microscope analysis etc can be added if required. A questionnaire will be sent out to each participant once they sign up to this event and the final course content will be built from this feedback.
Participants are asked to bring in 2 x soil samples, one from their best piece of ground and the other from their worst and a VESS will be carried out on both samples. They are required to take a cube sample 20cm x 20cm x 20cm (8'' x 8'' x 8'') or whatever width their spade is. See photo below for reference - these two soil samples are from fields right beside one another, the only difference is management.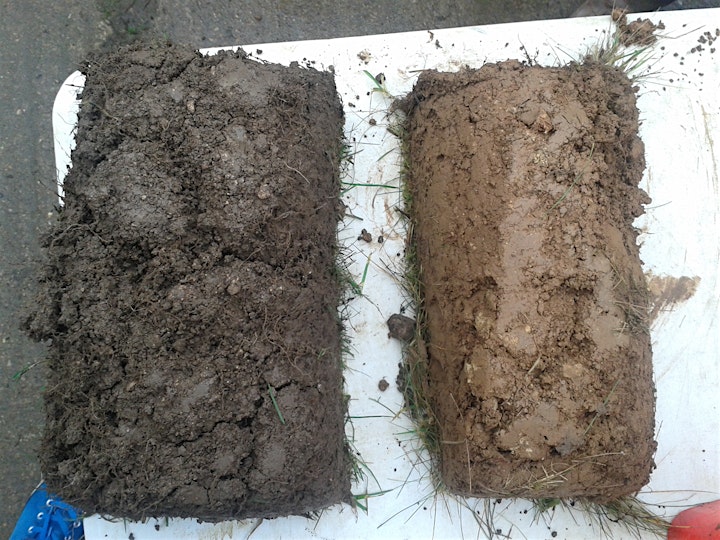 Potential Schedule Outline
09.30 - 11.00: Soil Food Web & Our Impact on It
11.00 - 11.15: Break
11.15 - 13.00: Composting, Worm Farm & BioFertilizer
13.00 - 14.00: Lunch
14.00 - 15.15: Visual Evaluation of Soil Structure & Earthworm ID
15.15 - 15.30: Break
15.30 - 16.30: Case Studies & Recap
About Dave Beecher
Dave is a Biological Soil and Farm researcher.
Dave grew up on his Grandmother's dairy farm in Co. Waterford. After a career in structural engineering, spanning Ireland, Australia and Canada, he spent a year working in International Disaster Relief, during which he realised that he wanted to address the issues at a causal rather than symptomatic level, so he returned to Ireland to immerse himself back in agriculture. This time taking a regenerative approach to mitigate both carbon emissions and the impact of climate change as well as addressing general human and environmental health.
Dave has studied with/worked alongside Zach Wright, completed Hugh Lovell's advanced course, and the 5-day course with Jairo Restrepo at Ragman's Lane Farm Biofertilisers (and a lot more), has completed a year long course with Jim Cronin in Market Gardening, and is studying for his masters in Organic & Biological Farming.
Dave has taught all over Ireland and with Regen.AG in the UK. He is currently a member of the Danú Farming Group which has been awarded funding through the European Innovation Partnership programme and the Department of Agriculture, Food and the Marine in Ireland to carry out a 5-year Biological Farming Transition Programme.