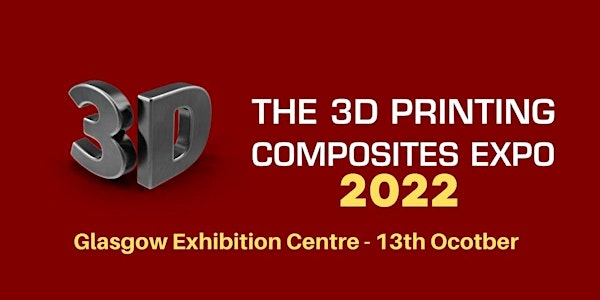 3D Printing Scotland 2022
3D Printing Scotland
By Premier Publishing & Events
Date and time
Thu, 13 Oct 2022 09:00 - 16:00 BST
Location
Scottish Event Campus, Glasgow Exhibition Way Glasgow G3 8YW, United Kingdom Glasgow G3 8YW United Kingdom
About this event
3D Printing Scotland is taking place on the 13th October 2022 at the Scottish Event Campus, Glasgow.
As an attendee, you can explore the business applications of 3D printing through conference sessions led by industry experts, demonstrations of the latest 3D printers and services, and programming for designers, professionals, and makers. Meet with 3D exhibitors and understand how 3D printing is revolutionizing industries including manufacturing, medicine, architecture, aerospace, and more.
Digitalization changes the entire value creation of manufacturing and the application of additive manufacturing technologies fits perfectly in the world of digital manufacturing. It drives a disruptive change in the product realization process, comparable to the advent of electric vehicles or alternative energy technologies.
New materials, novel business models, complex product design with the integration of new functions, new applications and job profiles as well as legal and social aspects characterize this evolution. Besides these, direct implications of additive manufacturing, super ordinate connections play an increasingly important role in the future of manufacturing. Together with robotics, artificial intelligence, nanomaterials and other exponential technologies, 3D additive manufacturing will significantly shape the future.
Why Attend:
·Engage with the most experienced and influential community in 3D manufacturing community in Scotland & UK.
·Learn how to use 3D technologies to reduce time to market, produce stronger and lighter parts, improve efficiency, reduce waste and cost, and create complex geometries.
·Consult with industry experts before you make equipment decisions.
·Visit numerous 3D technology manufacturers in one room.
·Network with attendees and see how they are addressing challenges.
·Collaborate with users and manufacturers to advance applications for 3D technologies.
Sectors Attending:
·Manufacturing
·Construction
·Food
·Healthcare
·Transportation
·Aviation & Aerospace
·Tech
·Design & Engineering
Sample Titles of Attendees:
·Engineering Director
·Head of Design
·Manufacturing Director
·Supply Chain Director
·Logistics Director
·IT Director
·Technical Director
·Head of Automation
·NPD Director
·R&D Director
·Procurement Director