Description
Our February meetup will feature presentations, demos and discussions.
Presentations
(1) 180VR Drama: Intimate spaces and private moments
Human stories happen in small spaces - cars, kitchens, bathrooms. Dee Harvey chose 180VR as the medium for her story because the story she was telling needed the unique potential for narrative transport offered by 180 storytelling. In this presentation she will talk about her experience of creating IF, a VR180 film about infertility that tells the story of a couple who are trying (and failing) to have a baby.
This film was a VR180 piece from its very inception and was designed, written, and directed to take full advantage of the intimacy and presence in private spaces that VR180 makes possible. Dee will describe the working process she and the team used at every stage to fully exploit the narrative and emotional potential of this emerging medium.
Dee Harvey is a writer-director specialising in stories about female embodiment. She co-wrote and directed IF, a VR180 film about infertility, that was commissioned by YouTube in 2018. It has been shortlisted for the Royal Television Society NI awards 2019. She is writing and directing Heartbeat, an animated VR experience about miscarriage, produced by Chi Thai and executive produced by Nell Whitley (Marshmallow Laser Feast). She is also working on LOSS VR a participatory, verbatim documentary about pregnancy loss, a co-production with Uppercut Creative in Vancouver. She is a founder of Controvert, a company focused on using immersive and interactive technology to tell stories in new ways. In 2017, she was selected for Reframed, an immersive artist residency at Lighthouse in Brighton. She has over 10 years experience working as an interactive producer at the BBC and in the indie sector specialising in factual interactive content and social media. She studied Interactive Telecommunications at NYU's Tisch School of the Arts, supported by Fulbright.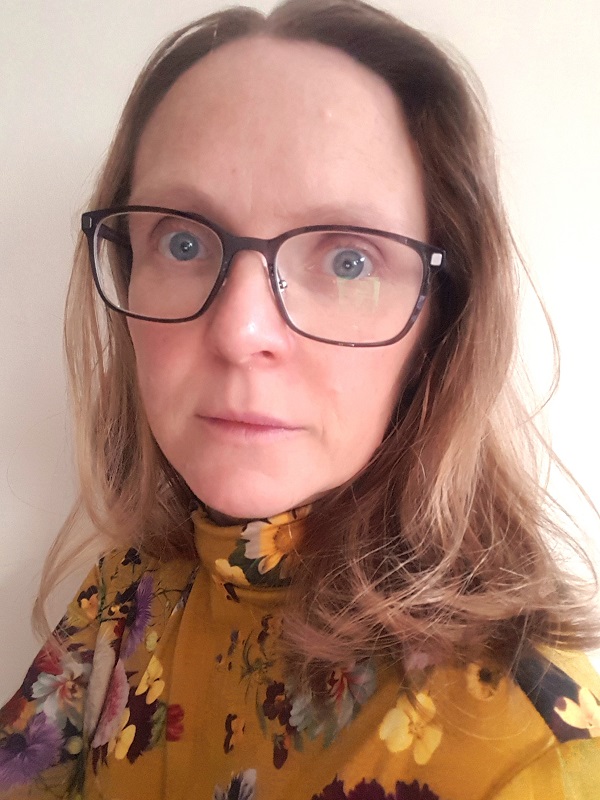 (2) Understanding Truly Immersive Multimedia Experiences
Immersive multimedia experiences have the possibility to engage users perceptually, cognitively and emotionally and there is significant interest due to their applicability across numerous application domains (film, entertainment, health, education, training, tourism, manufacturing). In this talk, Dr. Niall Murray will present an overview of the research ongoing in Athlone IT towards understanding factors that make experiences immersive. It will focus on the user as the key stakeholder in the quality evaluation process. The talk will conclude by highlighting potential benefits, some trends and future research directions.
Dr. Niall Murray is a permanent Lecturer and researcher with the Faculty of Engineering and Informatics in the Athlone Institute of Technology (AIT), Ireland. He received his BE (Electronic and Computer Engineering) from National University of Ireland, Galway (2003), MEng (Computer and Communication Systems) from the University of Limerick (2004) and PhD from the Software Research Institute (SRI) in the Athlone IT in 2014.
Since 2004, he has worked in R&D roles across a number of industries: Telecommunications, Finance, Health and Education. In 2014 He founded the Truly Immersive and Interactive Multimedia Experiences lab (TIIMEx). His research interests include Immersive Multimedia Communication, Multisensory Multimedia, Quality of Experience and Multimedia Synchronization. His research builds and evaluates from a user perceived quality perspective, end-to-end communication systems and novel immersive and interactive applications. He is a Science Foundation Ireland Funded Investigator with the SFI Adapt Centre and SFI Confirm Centre.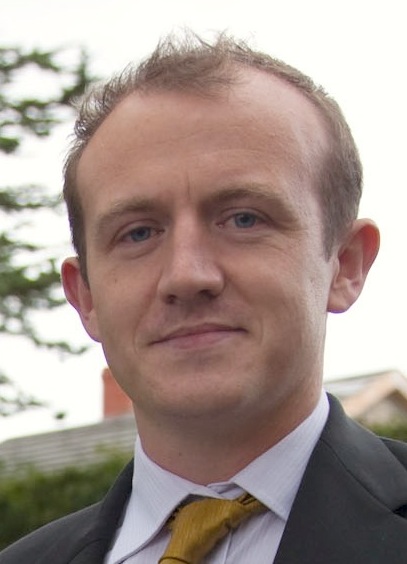 (3) Designing in Space - CosmosVR
Cordula Hansen will talk about her process of finding work and collaborating in VR, and explain how her team used VR applications to prototype and develop CosmosVR across multiple platforms. The presentation will explore current challenges of collaboration and data visualisation in VR.
CosmosVR is a data visualization dashboard helping users explore blockchain data from the Cosmos network. This is being developed for SimplyVC, a validator on the Cosmos network. It is designed and developed as an open source project in partnership with SimplyVC by Jerad Bitner, Cordula Hansen, and James Wilkens. A work-in-progress update is available on Medium.
Cordula Hansen has 15 years' experience as a design educator and has been self-employed as a VR designer and developer, working in remote and international teams since 2016. She has worked on educational spaces in social VR and has successfully brought VR applications through the research phase to development.

(4)

Creating Virtual Objects to Simulate Real World Objects
Instruments and recording studios are expensive and require a lot of space - these barriers to becoming a musician are disappearing using virtual reality. Many of our real world objects may also be replicated by virtual and augmented realities in the future, saving huge costs in manufacture, transportation, repair and replacement.
Paul Cullen will describe how we can fool the senses to make virtual objects believable, and future advancements which will further enhance the experience. Paul has a background in ICT/electronic engineering, is the owner of SkyWatcherVR and the main developer of Instrument Studio VR, "the world's first complete virtual reality recording studio, which includes all the instruments and equipment you need to make a record."
The SkyWatcherVR team are 3 musicians from the same part of town in Downpatrick, Co Down, that played together in their first bands. 30 years later get back in touch to pioneer playing music in virtual reality. Lead Developer is Paul Cullen, assisted by Kenny and Carl Papenfus, audio specialists from platinum selling Irish band Relish. Their mission is to make playing music and making records affordable, accessible and enjoyable.
"Imagine never having to carry and set up equipment, or breaking strings, or not falling out with the singer over who pays the studio fees!" Paul will outline how he accidentally started learning to develop VR software, and the challenges and rewards that emerged in developing Instrument Studio VR from an idea to a published application.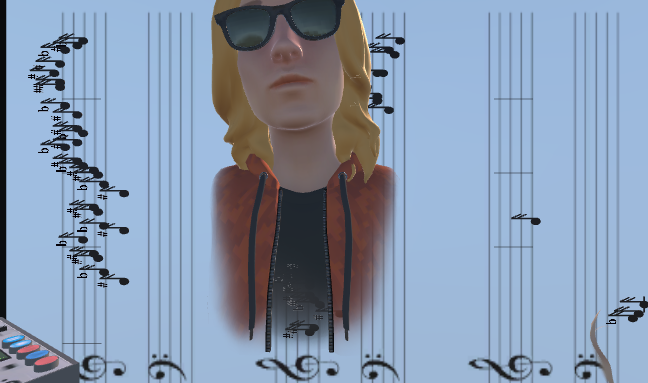 NOTE: Our previously listed 4th speaker, Joe Blake of Artomatix, has had to cancel his appearence on Feb 6th due to unforseen circumstances (it may be something to do with the their ~$60m acquisition!). The good news is that they've indicated they will be able to say a lot more about that fantastic exit at our next event.
Demos


(1) 180VR Drama: Intimate spaces and private moments
(2) VR & AR demos from students at Athlone Institute of Technology
Virtual Multisensory Tourism of Athlone Castle
Immersive Speech and Language Therapy application
AR based GAIT analysis system
VR based electric wheelchair application
Immersive VR based teleoperation for industry 4.0 applications
These project demos are the work of Conor Keighrey, Thiago Braga Rodrigues, Darragh Egan, Débora Salgado and David Concannon. More info -
Darragh Egan: "During my Masters Degree I was researching how the addition of Multisensory Multimedia components affected user Quality of Experience (QoE) in an immersive Virtual Reality Environment. The multisensory components that were added to the VR environment are haptic feedback and olfaction (sense of smell). Two experiments were developed and carried out during the time of this degree."
(3) Instrument Studio VR by SkyWatcherVR
Instrument Studio VR - The world's first complete virtual reality recording studio - includes all the instruments and equipment you need to make a record. Learn, play, jam and compose music - then record, mix and produce CD audio quality tracks. Piano compositions are saved as scores for printing later. Just a VR headset with 6dof tracking required. Instruments and recording studios are expensive and require a lot of space - these barriers to becoming a musician are disappearing.
SkyWatcherVR is a new independent XR software publishing and development company, based in Keshcarrigan, Co Leitrim. Paul Cullen is the owner and lead developer, assisted by audio specialists Kenny and Carl Papenfus (Relish). The company launched in Nov/19, and released it's first application "Instrument Studio VR", with an initial release for the Oculus Rift on the Oculus Store. They're currently working on porting the app for Valve Index, Oculus Quest and Vive Cosmos.
SkyWatcherVR We will be introducing the app, demoing the different virtual Instruments, and giving participants of the 3DCamp an opportunity to try the app. They invite questions from participants about the app, the development process, and about creating virtual versions of real world objects.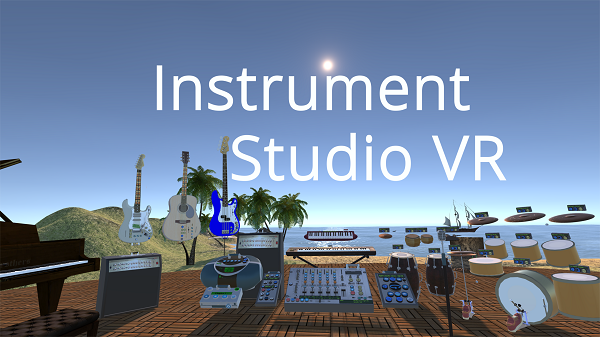 (4) 17th Century Galway in VR
RealSim specialise in geospatial environment simulation, simulating how the world around us looks today, how it could look in the future and how it may have looked in the past.
For this event they'll showcase some of the historical environment work showing three different places at different periods in history;
1. A simulation of the evolution of Galway since the last Ice Age
2. A simulation of the Lost City of Clonmacnoise (10th - 12th century Clonmacnoise)
3. A simulation of 17th century Galway.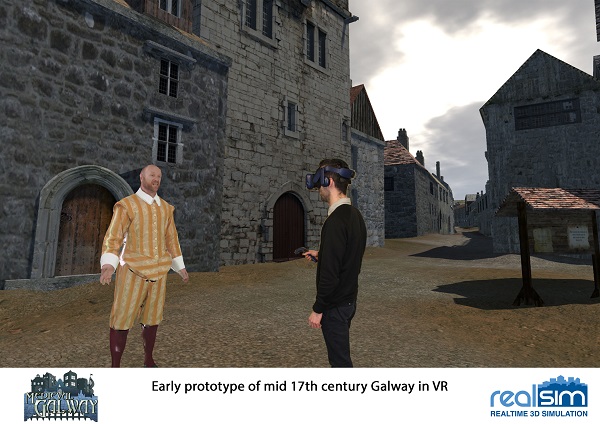 (5) Robot Factory game for Oculus Go
3D Technical Artist Borja López Montes will demo his robot factory game where the player has the opportunity to build a custom robot, grabbing the difference pieces from the belts around them. Borja hails from Spain and came to Ireland 3 years ago to follow his passion for 3D and technology. He's currently a 4th year student of Game Art and design at LIT Clonmel.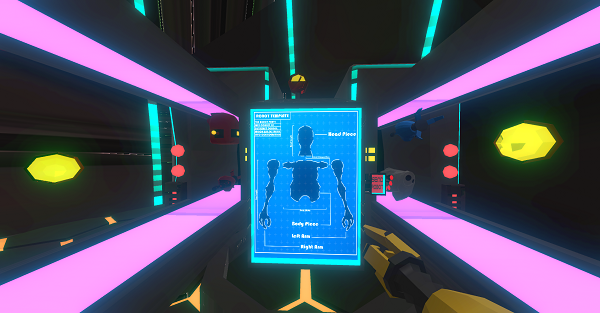 (6) Lightform - design tool for projected augmented reality
Alexandra Etienne will show Lightform - a design tool for projected augmented reality. "Lightform enables you to merge the digital & real worlds by adding magic to your space. Lightform has been used in every kind of event and location, including retail stores, restaurants and bars, trade-shows, offices, hotels, museums, theme parks, festivals and more. The best thing is you don't have to be an expert animator, programmer or designer; you can be a total beginner and enjoy using Lightform to create your masterpiece!"
Alexandra Etienne is Marketing Manager and advocate for Lightform. Her previous experiences include DAQRI, ARToolkit, AR.js. Looking for a way to bring alternative AR into the mainstream.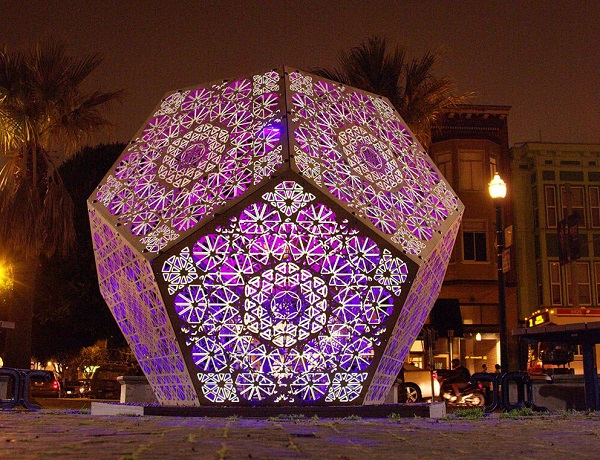 (7) Oculus Quest Hand Tracking
Oculus has enabled controller-free hand tracking on the Quest. At release you can interact with the Oculus Quest menu from the Library to the Store while pointing at and pinching whatever you want to select. In a similar way you can fast-forward or rewind trailers in the Oculus Store. We're expecting to see more functionality and app support by February so you'll have the opportunity to see if you think hand tracking can be compelling or if it's not ready for prime-time. See an Oculus video on Quest hand tracking here.