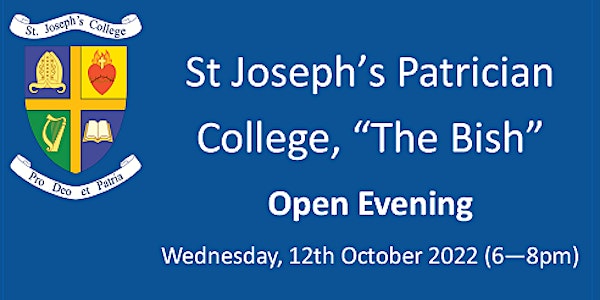 St. Joseph's Patrician College, "The Bish" - Open Evening
St Joseph's College, "The Bish" will hold an Open Evening for current 6th Class Students & their parents / guardians.
When and where
Location
The Bish Nun's Island Galway
About this event
We are really looking forward to meeting you all on Wednesday, 12th October 2022 (6-8pm) for our Open Evening at St Joseph's Patrician College, "The Bish".
Due to limited parking at the school, and to manage traffic flow and avoid congestion, we would encourage the use of public transport where possible, or parking at either the Cathedral Car Park or Mill Street Car Park.
We will be running the Open Evening over 4 sessions with varying start times, so as to avoid too much congestion around the school building and so that we can show smaller groups of parents and their son's around the school building in manageable group sizes.
When selecting a session, please ensure to select the time that best suits you, and take into consideration the time it might take for you to get to Nuns Island. As we will have a maximum number per session, and we would like to be able to accommodate everyone to the best of our ability.
Tickets are per person and not per Family, so please ensure to select the number of tickets you require.