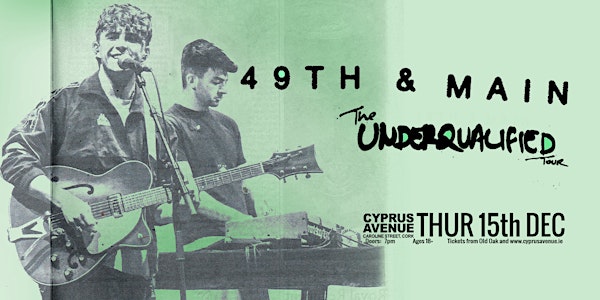 When and where
Location
Cyprus Avenue Caroline Street Cork Ireland
About this event

Hailing from the Irish town of Kilkenny, 49th & Main are an indie-pop duo consisting of producer Ben O'Sullivan and vocalist/multi-instrumentalist Paddy King. The pair first met in school and after growing close, they began working on music together during a particularly warm summer, with O'Sullivan dabbling with acoustics and how to record King's guitar. "It felt very 'I don't know how to do this" O'Sullivan admits, "it turned out so bad we didn't revisit it again for a few years". Time passed, and when they both decided to join a group of friends moving to Canada for the summer in 2019, they decided to take with them some recording equipment on the off-chance they'd get some time to experiment. Little did they know that by the time they returned home, they'd have the bones of their debut project.
Paddy King has been learning music since the age of 11, taking guitar lessons after school. Inspired by a blend of traditional singer-songwriters, he began writing his own music at 15 and started spending weekends busking on his hometown's busy cobbled streets. It wasn't until he reached university, however, that he became interested in house music, electronica and more alternative modes of creativity, and developed an urge to give different genres a go.
Whilst King was learning to string a guitar, producer Ben O'Sullivan had taken to video editing before slowly transitioning to music production when he was introduced by a friend to FL Studio. Teaching himself how to produce through YouTube tutorials, O'Sullivan was inspired by American artist/songwriter Jon Bellion's 'Making of' videos to try his hand at creating electronic pop beats. "What drew me to it was that I found it crazy that I could make a song without having any idea what I was doing" O'Sullivan recalls of his days spent experimenting with new sounds, "I was 11, I knew nothing, but I could make a song. I never thought 'oh, I'm going to do this forever' or anything like that but I could show my friends what I made and they thought it was cool". By the time college rolled around, O'Sullivan had been producing for almost a decade and was looking for fresh ways to be creative. When King approached him to move to Canada for a summer, it struck him as the perfect opportunity to try something new.
Once in Vancouver (just off 49th & Main street), O'Sullivan found himself unable to find work; so whilst King and his friends went to work at stores and building sites across the city, he would spend his days producing and writing music for Paddy to jump on when he returned. "We were just having good craic, we weren't thinking about releasing it" Paddy laughs, "but then all of sudden we had two songs we really liked and decided we wanted people to hear them".
It was around this time that O'Sullivan, unbeknownst to him, had developed aplastic anemia. A rare blood disease which prevented his bone marrow from producing enough new blood cells, making him chronically fatigued and prone to infections. After returning home from Canada, came months of tests, scans and anxiety for what was to come. This concern for the future, he admits, was a significant factor in pushing to release music as a new artist. "I didn't know what was happening; and I'd always wanted to release music and so I just thought 'Why Not'" he explains, "If I hadn't gotten sick, we probably would have waited, wouldn't have put those songs out when we did and who knows where we would be". "Music was a massive help" he adds, "I don't know what I would have done if it hadn't been for music".
On the 1st of January 2020, O'Sullivan was officially diagnosed and began treatment which left him heavily immunocompromised, living between the attic of his family home or a triple-sealed hospital room. Once more, music came to his aid. "Music took up 90% of my time, either making it or anything to do with it" he admits, "Especially when it was doing well, it was amazing, it was something exciting to look forward to"