5 Webinar Serie - Teach Language to ASD Children age 2-17 - for ASD parents
5 Webinar Series for ASD parents - How to teach Language to ASD children
About this event
This training is divided into 5 parts as 5 webinars and you must attend all 5 of them.
Cost of each webinar is 33 euro.
Cost of materials required to conduct a therapy at home with your child is between 100 and 150 euro depending on the programme (see all our training webinars) and has to be purchased separately.
---------------------------
Teaching Speaking to Children with ASD and related conditions is a programme designed to teach effective language and communication to children with a neurodevelopmental conditions that affect language.
Upon successful completion of the programme, children are able to understand and talk about: past, present and future events in their home life eating, playing, bathing, dressing and in the outside world: a visit to a shop, a trip to the zoo, activities at school.
Mastery of these skills enables children to become more active participants in the world around them.
Who is the programme for:
for children who meet the following criteria:
In language - can say at least 2 words in sentence, either spontaneously or through imitation - '' bye bye'', ''go home''. This is an indicator that the child has the perceptual and motor base required for spoken language.
In behaviour - they are willing to respond positively to adult guidance and cooperate with an adult.
How is the programme organised:
The Teaching how to speak programme is organised into short 20-30 minute sessions daily, 4-5 times a week. Skills taught in the lessons are also practiced outside the session in real-world scenarios. Depending on the child's skill and rate of progress, the full programme takes from 6 to 18 months to complete.
Two Components of the Programme:
PART 1: PRE-LANGUAGE SKILLS as a cognitive foundation on which language rests. In typical development, children move from single words to 2-and 2- word sentences within a relatively short period of time, and soon the full sentences emerge, so that by the age of 2 or 3, children can hold a conversation. This transition is smooth and can be easily overlooked. The changes are possible because a broad range of underlying pre-language skills are already in place.
In case of ASD and related conditions, we teach those skills to overcome this problem.
Levels of Pre-Language Skills: 240 session sheets
1- Matching pictures - 6 levels, 12 sessions per each level, in total: 72 sessions
2- Sequencing body movements - 4 levels, 12 sessions per each level, in total: 48 sessions
3- Sequencing visual patterns - 6 levels, 12 sessions per each level, in total: 72 sessions
4- Building receptive language - 4 levels, 12 sessions per each level in total : 48 sessions
Pre-Language Skills:
attention - maintaining, selective and sustained attention
sequencing - processing and retaining information that comes in over the course of time
memory - holding in mind a set of information, such as pictures, words and sentences
PART 2 - LANGUAGE SKILLS
Language Skills: 72 sessions sheets
Elementary sentence structure
Level 1 - 2-word phrases - 3 sessions
Level 2 - Single noun-verb sentences - 3 sessions
Level 3 - Expanding sentence structure - 3 sessions
Advanced sentence structure
Level 4 - Sentences introducing a subject - 3 sessions
Level 5 - Sentences describing actions - 3 sessions
Level 6 - Sentences describing potential actions - 3 sessions
Level 7 - Sentences discussing the non-present - 3 sessions
Level 8 - Sentences in the past tense - 3 sessions
Level. 9 - Sentences in the future tense - 3 sessions
Level 10 - Sentence combinations of 6-8 words - 3 sessions
Level 11 - Sentence combinations of 9-10 words - 3 sessions
Level 12 - Sentence combinations of up to 12 words - 3 sessions
Asking questions
Level 13 - Starting questions - 3 sessions
Level 14 - Questions about action - 3 sessions
Level 15 - Questions about Location - 3 sessions
Level 16 - Questions with ''Which one'' - 3 sessions
Level 17 - Questions about desire and ability - 3 sessions
Level 18 - Questions that refer to past actions - 3 sessions
Level 19 - Questions that refer to future actions - 3 sessions
Level 20 - Questions using ''not'' - 3 sessions
Expanding the language forms
Level 21 - Yes/No questions - 3 sessions
Level 22 - Introducing ''you'' and ''I'' - 3 sessions
Level 23 - Questions about '' what has been said'' - 3 sessions
Level 24 - Summarising events - 3 sessions
The programme includes 4 types of language activities that seem simple, but they have enormous power. When combined and centred on a specific topic, they begin to approximate the flow of natural conversation. The introduction of a new material is done in a slow, carefully paced manner that gives a child the sense that verbal communication is within a child's power.
Following commands
Verbal imitation
Answering questions
Sentence completion
How to get started:
You need all the materials to carry out the programme effectively:
the materials to be used which I am going to send to each course participant via email to print and laminate
the language and actions required of the adult and the child
ways to handle difficult situations that may arise.
General guidelines:
Sessions:
One session of 20-30 minutes per day, 4-5 days peer week
Set up:
Workspace - a separate room with removed disruptors- only you and your child
Position - you sit next to your child by his/her right hand if a child is right-handed, and present the materials that the child sees clearly. The child sits in a comfortable chair with his/her feet touching the floor.
Adult's manner - a sense of calm control, ''business-like'', no sweets, no drinks, no food, no rewards. Correct responses are acknowledged solely with '' good'', ''very nice'' - not offered for every correct response (prompt dependency). Though not often given the attention it merits, the mastery of skills is empowering, and , on its own, it serves as the most effective reward a child can receive. As the child recognises the power she/he has to deal with the world, their confidence soars and they become more involved in teaching activities, without the need of external rewards.
Child's behaviour - the goal is to have the child sit quietly and attend to the adult throughout the session.
Hand support and hand-over-hand support
They are provided as needed. We will learn the difference between those two supports during our webinar.
Handling incorrect responses
We will learn the difference between those two supports during our webinar. A vital aspect that determines the course success.
Generalising skills in real-life situations.
This webinar series has 5 parts and it's important to attend all of them in a sequential order due to the sequential nature of the programme
Part 1 - Pre-Language Skills - attention, sequencing, memory
Part 2- Language Skills - Levels 1- 3 - elementary sentence structure
Part 3- Language Skills - Levels 4 - 12 - advanced sentence structure
Part 4 - Language Skills - Levels 13 - 20 - asking and answering questions
Part 5 - Language Skills- - Levels 21 - 24 - expanding the language forms
Cost:
Attendance - 33 euro per webinar, attendance in 5 webinars is strongly recommended
Materials:
1 - 312 session sheets to work with a child on for all levels,
2 - Material set for each session to print, laminate and cut
150 euro
Individual one-to-one consultation at 65 euro if additional guidance is needed.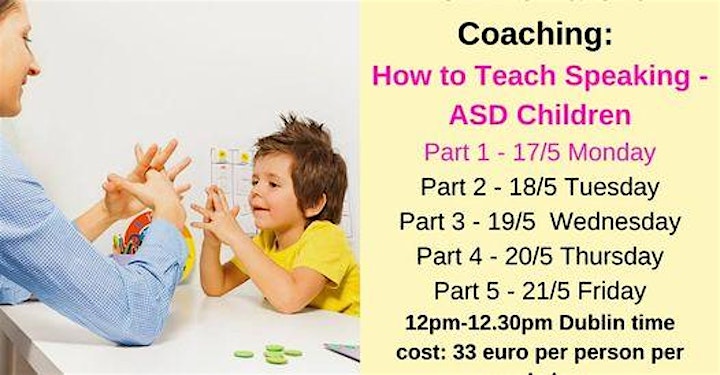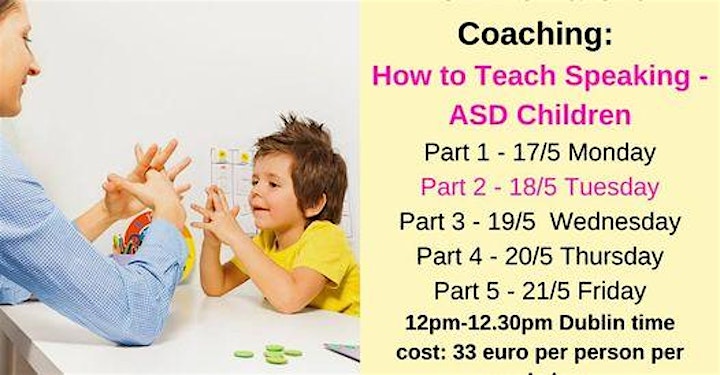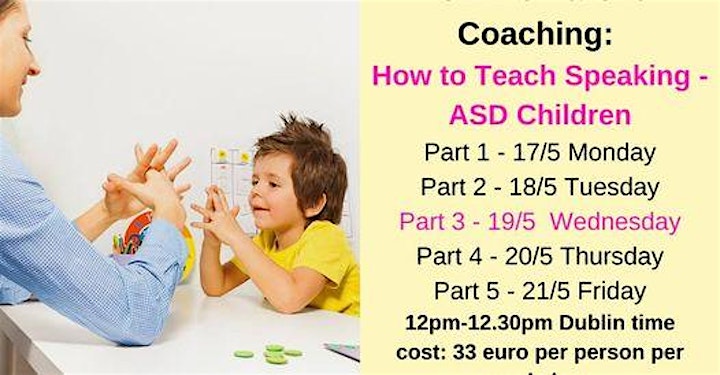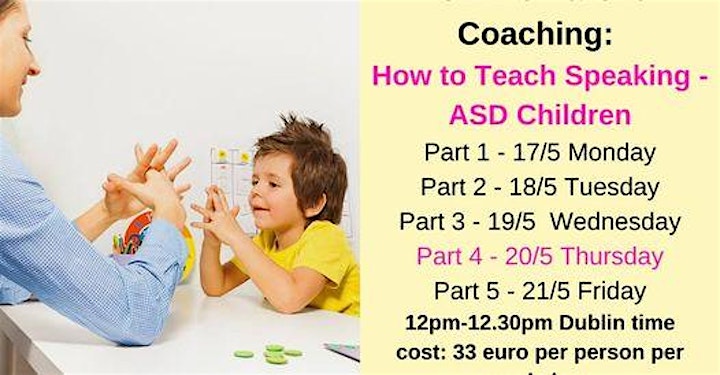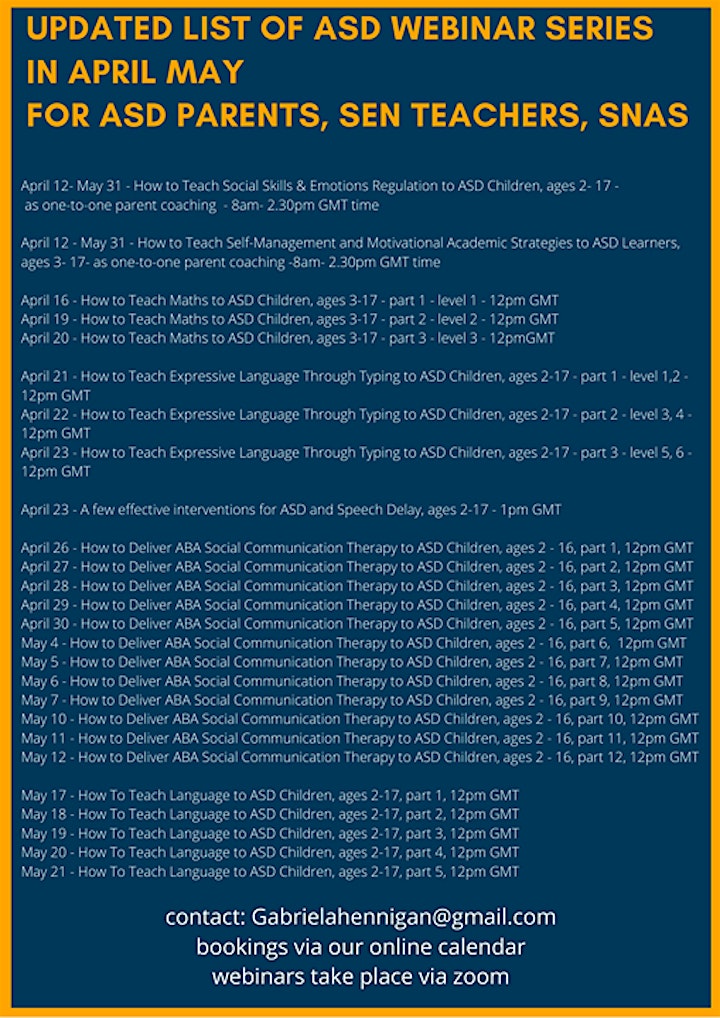 Organiser of 5 Webinar Serie - Teach Language to ASD Children age 2-17 - for ASD parents
Gabriela Hennigan, M.A., B.A. is an Autism Educational & Behavioural Consultant with Autism Consulting Online, a Special Education teacher registered with the Teaching Council of Ireland, director at Integrative Therapies Centre for Autism and since 2015 a practitioner of Applied Behaviour Analysis, Filtered Sound Training, Rhythmic Movement Training & Reflex Integration, Brain Gym, Cranio Sacral Therapy, Multi-Sensory Therapy, Social Skills Training, Auditory Integration training. Gabriela has been working with ASD children since 2015 as ABA Therapist, Neurodevelopmental and Whole Brain Practitioner.

www.AutismConsulting.Online