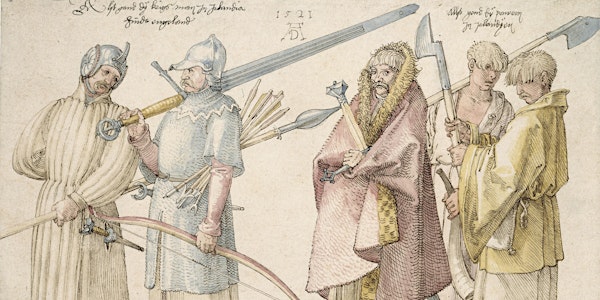 500 Years of Albrecht Dürer's Irish Soldiers and Peasants
Celebrating 500 years of Renaissance master Albrecht Dürer's iconic watercolour of Irish soldiers
About this event
On the quincentenary of Albrecht Dürer's iconic watercolour drawing of Irish Soldiers and Peasants (Kupferstichkabinett, Berlin), this webinar unites subject specialists to discuss the circumstances of the drawing's composition, its style and influence, arms and clothing, and its reception and legacy. Half a century on, Dürer's illustration remains of considerable public interest and importance in Ireland. Join expert panellists as they trace its history and unlock its enigmatic qualities.
Opening remarks by special guest Mr John Lynam, Ireland's Deputy Ambassador to Germany.
Register for your free ticket
The webinar will take place via Zoom, Meeting ID: 993 7428 4844
Registered attendees will be able to access the passcode for entry into the Zoom meeting, posted on the Online Event page.
Please ensure that you have a personal account set up with Zoom (https://zoom.us/signup).
Programme
13.00 Welcome, Dr Katherine Bond
13.05 Address, Mr John Lynam, Ireland's Deputy Ambassador to Germany
13.15 Historical Context of the Drawing
Dr Hiram Morgan, University College Cork
"Dürer's Irishmen - where, how and why was it executed?"
Dr Simon Egan, Trinity College Dublin
"Galloglass, Kern, and the Gaelic Recovery, c.1250-c.1520"
Dr Katherine Bond, University College Cork
"Fashioning the Irish in Sixteenth-Century Costume Images"
14.30 Break
14.45 The Drawing's Reception & Legacy
Dr Sarvenaz Ayooghi, Suermondt-Ludwig-Museum, Aachen
"Dürer Was Here: The legendary road trip of Dürer through the Netherlands"
Dr Jill Unkel, Chester Beatty Museum
"Dürer's Irish Soldiers and Peasants in Dublin"
Dave Swift, Claíomh
"Reconstructing Dürer's Irish Soldiers: an Archaeological Approach"
15.50 Closing Remarks
Organized by Dr Katherine Bond & Dr Hiram Morgan of the School of History, University College Cork with the support of the Irish Research Council.