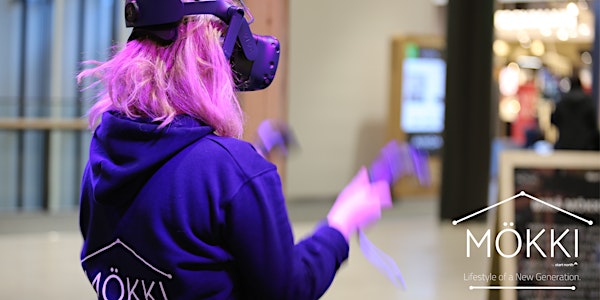 5G Mökki Network Global Launch & Workshop
5G Mökki Network Global Launch & Workshop
When and where
Location
Hämeen ammattikorkeakoulu (HAMK), Hämeenlinnan korkeakoulukeskus 9 Vankanlähde 13100 Hämeenlinna Finland
About this event
Something exciting for You??
Join the 5G Mökki Network Launch event and workshop October 14, 2021 at 13-15 (EEST) online . The zoom-link for the event will be send to the registered participants Oct 14 at 11:00 EEST.
5G is the 5th generation mobile network. 5G enables a new kind of network that is designed to connect virtually everyone and everything together including machines, objects, and devices. Technology has been shown to improve the productivity of a production unit by 30%, for example.
The need for experts and applications of 5G technology is growing rapidly in Finland and around the world. The covid pandemic is further accelerated the transition to fifth-generation network technology, which enables high-speed, low latency and high-capacity mobile connections and thus remote working, production control and a wide range of new services.
5G Mökki is a place where you can quickly learn about 5G technology and its application. Applications can cover a wide range of fields from healthcare and education to industry, trade and services. Creative industries are also very potential users of technology.
5G Mökki is also an innovative tool to realize your talent and achieve great things together. With 5G Mökki you can build your successful learning and entrepreneurial career paths. The environment has been co-created together with Aalto University, Nokia and several other top universities and companies.
In this event you will learn about the 5G Mökki and the growing network of universities and companies behind it. More importantly, in the following workshop you get the opportunity to create augmented reality 3D worlds yourself! In the world enabled by 5G technology, you do not need just use the ready-made solutions and passively experience what others have created anymore. It is like playing Minecraft but with technology of tomorrow!
Instead, you can become the creator and designer yourself! You can show your vision about new products and services using AR solutions!
Join the workshop and learn how to demonstrate your products and services using augmented reality technology. The productions can soon be experienced at 5G Mökki network across campuses and companies.
Do not miss this opportunity! Tell about this opportunity for you friends, too!
Program (EEST)
13:00-13:05 Opening words, President, Pertti Puusaari, Häme University of Applied Science.
13:05-13:10 Greetings from Aalto University, Vice President, Petri Suomala, Aalto University.
13:10-13:20 5G Mökki and its global opportunities, Peter Vesterbacka, Mighty Eagle of Finnish Education.
13:20-13:30 Huge opportunities of 5G technology. Growing need of students who know and apply technology, Veli-Pekka Luoma, Partner Ecosystem Lead, Nokia Mobile Networks.
13:30-13:35 How we utilize 5G Mökki at Xamk University of Applied Science, Tomi Heimonen, Director Xentre, Research and Education Unit for Business and Innovation.
13:35-13.40 How we utilize 5G Mökki at Metropolia University of Applied Science, Erkki Räsänen, Principal Lecturer, Metropolia AIoT-lab
13:40-13:50 How 5G Mökki fits with Creative Industries Futures, Denise Stanley-Chard, Founder of CLOCK, an international expert in delivering practice based learning for the Creative & Cultural industries
13:50-14:00 Start North Mökki Network & The Future Funding of Science and Peace
Mark Nelson, Research Director, Founder, Stanford Peace Innovation Lab; Research Director, Co-Founder, Peace Innovation Institute The Hague.
14:00-14:10 Break
14:10-14:50 Workshop facilitated by 3DBear. The opening words Sami Häggman, Business Development Manager, DNA Plc. (part of Telenor)
Introduction to workshop: 5G technology as an enabler: Combining immersive technologies and inspiring pedagogic content for the best learning results. Jussi Kajala, CEO, 3DBear.
The event is part of the strategic cooperation between Aalto University, Häme University of Applied Sciences (HAMK), South-Eastern Finland University of Applied Sciences (XAMK) and Metropolia University of Applied Sciences, which also includes close cooperation with Nokia Corporation. From the beginning, the University of Helsinki, the University of Oulu and the Tampere University, as well as several other universities and companies have also been involved in the development of the 5G Mökki. The 5G Mökki has been market tested and developed at an early stage at the Stanford University campus in the United States. The event will be streamed from 5G Mökki on the Hämeenlinna campus of Häme University of Applied Sciences.