68th Annual & Scientific Meeting -

Thursday, 24 September 2020 at 10:00

-

Friday, 25 September 2020 at 10:30 (IST)
Event Details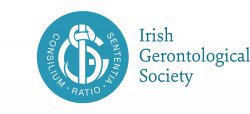 Irish Gerontological Society
68th Annual and Scientific Meeting 2020
Innovation, Advances and Excellence in Ageing

#igs2019 @irishgerontsoc

**For conference hotel rates: quote code IGS19 when you call the hotel**
We are pleased to announce details of our 2019 Annual and Scientific Meeting.
 This meeting is being held in collaboration with University College Cork, South Southwest Hospital Group and Cork Kerry Community Healthcare
When & Where

Hotel Kilkenny
Kilkenny City

Ireland


Thursday, 24 September 2020 at 10:00

-

Friday, 25 September 2020 at 10:30 (IST)
Add to my calendar
Organiser
Transforming ageing in Ireland....
Founded in 1951, The Irish Gerontological Society (IGS) is one of the oldest multidisciplinary societies in the world concerned with gerontology: the science and study of the ageing process. We are engaged with research, education and practice in the field of ageing. This includes the study of changes in older people's physical and cognitive health, and the social changes people experience as they age.
....through Interdisciplinary and cross-speciality engagement and collaboration....
Our core purpose is to provide leadership in advancing the science and study of ageing. Our primary role is to connect professionals and experts, link research evidence to policy and practice, and disseminate information to our members, decision-makers and society. In doing this, we aim to transform the lives of older people.
Members of the IGS stem from the whole of Ireland, representing professions and disciplines involved in areas such as health and social care, economics, the social and built environments and technology.
....towards improvements in the wellbeing, health and care of older people....
As champions of optimal ageing, we strongly believe in the strength and impact of our combined expertise and efforts. Our members connect, collaborate and network at our scientific meetings, seminars and study days. Engagement is encouraged and enabled through attendance at our events and participation in our committees, project teams, and special interest groups.
....for a better world which is age-attuned.
Throughout, we strive to stimulate both debate and action on improving the well-being and empowerment of older people. We seek to contribute to public discussion by being an authoritative voice on all aspects of ageing, informed by evidence-based research and professional practice experience. We do this in pursuit of our vision of an age-accommodating and age-attuned society, where older people are not left behind.
miriam.ahern@irishgerontology.com      www.irishgerontology.com          @irishgerontsoc
CHY No. 18858