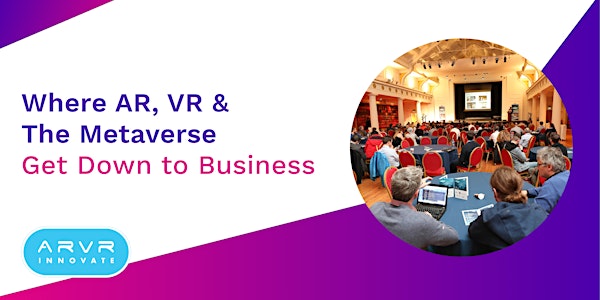 9th Annual ARVR INNOVATE Conference and Expo 2022, RDS Dublin, Anglesea Rd.
RDS Halls 3 + 6, Anglesea Rd, Dublin 4 on Thursday, May 12 for the 9th International ARVR Innovate Conference and Expo
When and where
Location
Conference - Hall 6 - Expo - Serpentine Hall ( Hall 3 ) Royal Dublin Society - Anglesea Road Entrance Anglesea Road Ballsbridge Ireland
About this event
Join us in the RDS Hall 3 & Hall 6 Anglesea Road entrance, Dublin, Ireland on Friday, May 12 for the 9th International ARVR Innovate Conference and Expo - where AR, VR & the Metaverse Get Down to Business.
ARVR INNOVATE is packed with new speakers from companies including Pico, MetaVRse, INVEST WALES, Draw & Code, Holotoyz, Corning Incorporated, Ogilvy, RealWear, Ultraleap, SKMMP, The Glimpse Group and Return 2 Sender coming on board in the last couple of weeks.
...............................See below for full agenda.....................................
Top Irish and International Speakers....listing here.
We have a top line-up of Irish and International Exhibitors --your chance to interact and try the technology in numerous contexts --- latest listing here.
ARVR INNOVATE is established as one of Europe's top events dedicated to the business of immersive tech, so if you're serious about creating or deploying in your organisation, it's the event you need to attend.
TAKE YOUR TEAM -- there is so much going on at the event in just one day, you'll regret not taking some colleagues to maximize the benefit from our conference, workshop and expo hall with plenty of demos.  We have a great value 3 for 2 offer.
HURRY - TICKET PRICE RISES ON 10 MAY...
With senior representatives from right across enterprise, entertainment and tech taking to the stage, ARVR INNOVATE is a true cross-industry mix of the brightest minds working on virtual, augmented and mixed reality.
VENUE - RDS, Hall 6, Anglesea Road Entrance.
Agenda * :
9.00 am – Welcome Address: Alex Gibson, School of Marketing , TU Dublin , Conference Chair, ARVR INNOVATE
9.05- Camille Donegan, EIRMERSIVE, The Irish Immersive Economy, presentation on report commissioned by Immersive Technologies Skillnet, Animation Skillnet and Screen Skillnet,
9.15am -- From Fighter Pilot to the Factory Floor: Virtual Reality and the Democratisation of Simulation Training - Niall Campion, VRAI
9.30am - VR Mental Resilience Platform - Sabina Bonnici, vStream
9.45 am – An overview of Pico Interactive's hardware offering and benefits of VR Training : Rikesh Raja, Commercial Director, PICO Interactive
10.10am – Creative Industries and Immersive Tech Panel – chaired by Camile Donegan, Solas VR. Panelists: Klaire Hodgson:  Animated Technologies Creative Director (Wales) Alan Magee: Visual Artist working with AR Jo Mangan: Theatre and Immersive Director Dafydd Hall Williams: Project lead of an AR opera using volumetric characters
10.50am – Coffee Break & Networking
11.20am – James Watson, CMO, The Glimpse Group ( USA ) Metaverse mania is calming down, but is it leaving behind unrealistically high expectations of what the future holds?
11.40am - Louise Harris, Co-founder, Tramshed Tech, Cardiff, Welsh creative tech ecosystem overview, in association with Conference Partner Invest Wales.
12.00pm – Alan Smithson, Founder MetaVRse ( Canada ) , Metaverse: The future of human communication, collaboration, commerce and culture. ( online )
12.15pm – Building a start-up in the AR/VR Eco System – Holotoyz
12.30pm – Partner case-studies – Open Labs by TU Dublin
1.00pm – Lunch Break – note Lunch is not included in ticket price but a number of food outlet options will be available at the RDS or in Ballsbridge.
1.45pm – The Marketing Panel – How Immersive Technologies will power customer engagement Prof Jo Sholtz, Brock University ( online ) Nicolas Moreno de Palma - Volograms, Donald Douglas - Return2Sender, Keith Lawler - Creative Director at Folk Wunderman Thompson : moderator Fardus Sultan, TU Dublin.
2.15pm –High-Index Glass Portfolio to Help Accelerate Mass Adoption of Augmented Reality Technology, Francis Behan, European Director of Corporate Innovation Systems & Processes, Corning Incorporated( USA )
2.30pm – Augmented Reality Enterprise Association Panel – Building the case of AR in Enterprise and Industry…chaired by Mark Sage, Executive Director, AREA. Participants Mark Thurgood -  RealWear, Emily Savage -  Ultraleap, Gary Smith - Welsh Water ( online )   and Ilmars Osmanis - Lightspeed 3D.
3.00pm – Coffee Break and Networking in Expo - Draw for two Pico Neo 3 Pro Headsets
3.35pm – Interdisciplinary Case-Studies Bridging Academia and Industry, Prof. Ann Mc Namara, Texas A+M University
3.50pm – The Future of Experience, Beyond the Metaverse, Peter Woodbridge, Draw & Code, Liverpool.
4.10pm – The Metaverse Panel – top panel of Irish and international guests discuss how AR and VR will be pivotal gateways into the Metaverse. Panelists confirmed include Julie Smithson, MetaVRse, Aileen Carville, founder SKMMP, Jane Mc Daid, founder Thinkhouse and Paul Hamilton ( online ) global Metaverse specialist, Ogilvy ( Dubai ). Moderator is Damian Ryan, Partner, Moore Kingston Smith, London.
4.55pm Concluding remarks—conference chairperson Alex Gibson reflects on the themes from ARVR INNOVATE 2022 and speculates on the next 12 months
5.15pm Conference Closes & Social Drinks sponsored by PICO Interactive in Paddy Cullen's bar, Ballsbridge.
The above agenda is correct at time of publication but may be subject to minor modification in advance of the event.
Ticket price includes full access to Expo Hall and Conference Hall and two complimentary coffee-breaks.
Join the online conversation using #ARVRInnovate
Speakers at ARVR Innovate will address a number of key market sectors providing early adoption case studies relevant to many industry sectors including:
Industrial / Engineering
Training
Tourism and Events
Construction/Real Estate
Marketing Communication
Gaming and Entertainment
Main Stage 
Our main stage features talks and panels from some of the top minds and influencers in AR and VR today. 
Expo Hall
Our expo hall featured booths showcasing AR and VR applications in verticals such as Engineering, Software, Marketing, Training, Architecture and Medical.
About ARVR Innovate
ARVR Innovate is Ireland's only conference dedicated to augmented reality (AR) and virtual reality (VR).
ARVR Innovate was one of the first events of its type to be organised in Europe. This has helped it establish a strong reputation both in Ireland and internationally. This has seen it named as one of the top AR and VR events in the world.
Since its founding in 2014, the aim of the conference has been to promote the capabilities and use of AR and VR, by spreading awareness of these developing technologies and encouraging the growth of the sector. ARVR Innovate provides a platform for practitioners to showcase their work and to come together with others interested in this growing industry. It has also been heralded for helping bring attention to the Irish AR and VR sectors.
ARVR Innovate has a proven track record in attracting speakers of the highest calibre. Past speakers have included Don Levy of Smith Brook Farm, Google Earth's Dave Lorenzini, Ryan Mensches of Microsoft, global mobile phone expert Tomi Ahonen, Barry Downes of Sure Valley Ventures, Alan Smithson from MetaVRse, Brian Mullins and Gaia Dempsey from DAQRI and SAP's Manuel Saez.
* MODIFICATION OF THE PROGRAMME
The conference organisers reserve the right to modify the programme. No refunds can be granted in case of cancellation of speakers, lack of space in the conference room or any other incidents during the conference which are beyond the control of the conference organisers. Please check the main website www.arvrinnovate.com where the most current information is available.
Photographs & Video Streaming
The organiser may without the further consent of the participants use and release pictures and videos taken during the congress for reports of the congress and/or in future marketing materials. By registering to this event attendees agree that photographs or sound or video recordings taken during the event that could include recognizable images or voices of those in attendance may be posted on the ARVR Innovate website.
All recordings are treated sensitively and discreetly. Names will not be published. The event  is held in a public space, therefore we do not prohibit participants, exhibitors, sponsors, or news organisations from photographing, video or audio-taping some event activities. The organiser reserves the right to use images taken at the congress with your photograph and/or likeness on social media and/or in future marketing materials. The organiser is NOT responsible for individual attendee's use of your image or likeness.
Booking this conference constitutes agreement to the above terms.