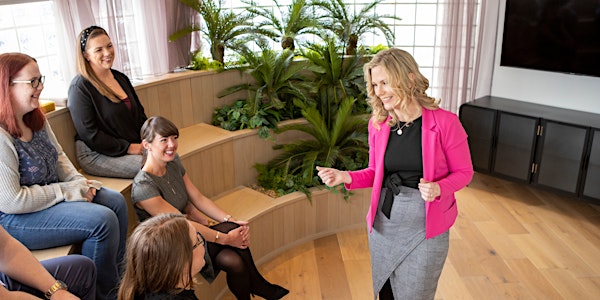 A Better Workday in Glandore
Are you feeling overwhelmed at work? Would you like to be successful and look after your wellbeing? Let me change how you think about work!
By Niamh Brady - Better Workday
Date and time
Thu, 28 Oct 2021 09:30 - 16:30 IST
Location
Glandore Office Cork | Private Office Space Cork City | Offices to Rent in Cork Lapp's Quay Cork Ireland
Refund Policy
Refunds up to 7 days before event
About this event
Do you want to be successful AND look after your wellbeing? If you are ready for a better workday, then I want to work with you! I will help you restructure your workday and approach it in a whole new way to keep it enjoyable, inspiring and motivating.
Join me for a workshop in the stunning Lighthouse Suite in Glandore, Cork and take control of your workday.
What will you gain?
You will learn to align your work to your purpose through the following:
Goal setting
Priority management and planning
Workload management
Managing expectations
Managing email and messaging
Holding effective meetings
Managing procrastination, interruptions and distractions
Leveraging technology to support you, not burden you.
My workshop will change how you think about work. If you want to be successful but are worried you don't have the time, skill or resources to do it I will challenge that throughout the day and you will leave ready to succeed! However, it's more than that, there is a reason beyond money that people want to be successful so I help you to acknowledge and take pride in that, and find ways to honour it throughout the working week.
"I recently completed A Better Workday and the timing could not have been better; work was getting increasingly busier, every day seemed like a long sprint and while I was working hard I felt I was not achieving much. A Better Workday has helped me prioritise the fundamental tasks of what my job is, but more importantly taking control from my inbox. Niamh tailors the content depending on the needs of each candidate, it's not a "one size fits all '' course but one that bends and delivers to achieve individual objectives."
Elaine, A Better Workday workshop attendee, April 2020
Where?: The Lighthouse Suite, Glandore, City Quarter, Lapp's Quay, Cork City, Cork. Cork
Time: 9.30am to 4.30pm
Price: €215 (please be aware this is an introductory price and will increase to €236 after the 10th of October)
Limited Availability! Early booking is advised as the workshop is limited to ten.
Teas and coffee, as well as light lunch (sandwiches etc), will be provided.
"Niamh was amazing in helping me see where I needed focus and what I needed to let go of. I now have a proper time management plan in place to help me stay focused going forward.
For anyone wondering do these sessions work- OMG I am in awe of her expertise and fun way to make you realise what are your priorities, but also to make time for you. I am now looking forward to next weeks' tasks."
Maura, A Better Workday workshop attendee, November 2020
Find out more: Find out more about me here at https://www.niamhbrady.com/ or email me at niamh@niamhbrady.com
Take control of your workday today!
About the organiser
Niamh Brady is the founder of Better Workday and author of Remote Working Essentials. She is passionate about helping people be more productive while supporting their well-being.
Niamh will challenge you to think differently about how you manage your time, energy and attention to create a better workday.