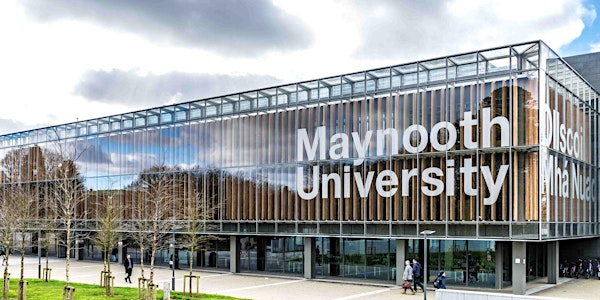 A conference on the comparative aspects of arbitration law
Event Information
Location
Maynooth University, Iontas Theatre, North Campus
Maynooth University
Maynooth
Ireland
A conference on the comparative aspects of arbitration law will take place on Maynooth University's campus
About this event
A conference on the comparative aspects of arbitration law will take place on Maynooth University's campus, May 13, 2022. Conference is funded by Maynooth University and organised by Dr. Yagmur Hortoglu. It is supported by institutions such as ICCYAF, Arbitration Ireland, YPAI, Bar of Ireland, NYIAC, NYU Law Center for Transnational Litigation, Arbitration, and Commercial Law and REAL (Racial Equality for Arbitration Lawyers).
Comparative Aspects of Arbitration Law
9.00 – 10.00 REGISTRATION AND REFRESHMENTS
10.00 – 10.15 OPENING AND WELCOME ADDRESS
10.15 – 11.30 SESSION 1
Moderator: Dr. Yağmur Hortoğlu (Assistant Professor in Law, Maynooth University)
Prof. Francesca Ragno (Professor of Law, University of Verona): "The second look at awards in Italy".
Prof. Julio César Rivera Jr. (Global Adjunct Professor of Law, New York University, Partner at Marval, O'Farrell & Mairal): "The review of the award under constitutional standards in Latin America".
Prof. Caroline Kleiner (Professor of Law, University of Paris Cité): "The control of international public policy for arbitral awards by French courts: a new standard is born?"
11.30 – 11.45 COFFEE BREAK
11.45 – 13.00 SESSION 2
Moderator: Sean McCarthy (The Bar of Ireland, ICCYAF)
Prof. Franco Ferrari (Professor of Law, New York University): "The relevance of the law of the seat in the enforcement of arbitral awards".
Susan Ahern (The Bar of Ireland): "Sports Arbitration – determining the limits of competitive advantage".
Klaus Reichert SC (Brick Courts Chambers London): "The true task of the arbitrator – thoughts from the Common Law for contemporary practice".
13. 00 – 13.15 CLOSING REMARKS
13.15 – 14.30 NETWORKING AND LUNCH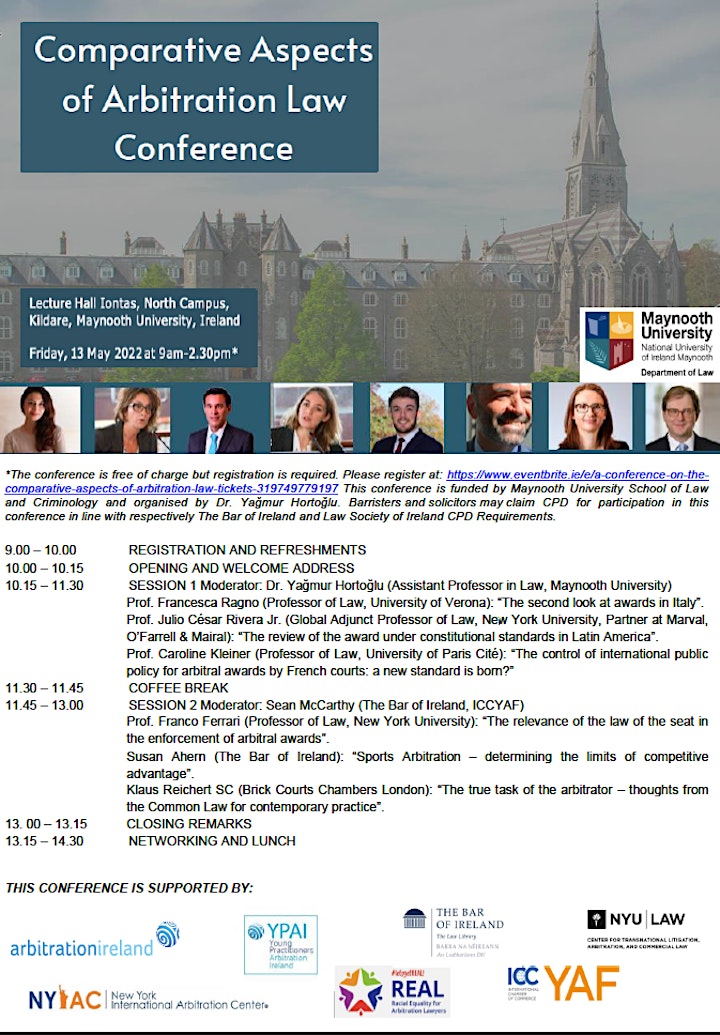 Date and time
Location
Maynooth University, Iontas Theatre, North Campus
Maynooth University
Maynooth
Ireland