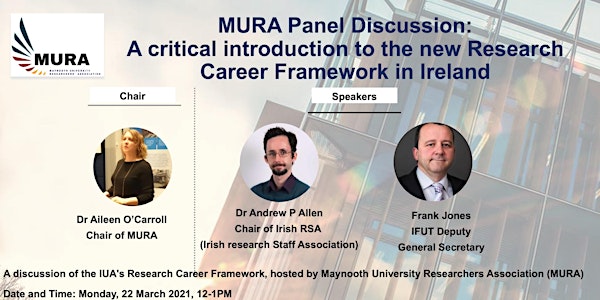 A critical introduction to the new Research Career Framework in Ireland
A discussion of the IUA's Research Career Framework, hosted by Maynooth University Researchers Association (MURA)
About this event
In November the Irish University's Association (IUA, an organisation of heads of university) quietly published its Research Career Framework on their web page.
https://www.iua.ie/for-researchers/researcher-career-framework/
It is expected that universities will implement this framework in its university policies. There was no researcher or trade union involvement in developing this framework. Researchers have grave concerns that it is proposing a continuation of the insecure work, with continueous temporary contracts, which has caused much distress and difficulties to researchers living and working in Ireland.
Speakers:
Andrew Allen, Chair of the Irish Research Staff Association, https://www.irishrsa.ie
Frank Jones, Deputy General Secretary of the Irish Federation of Univerity Teachers, https://www.ifut.ie/about-ifut