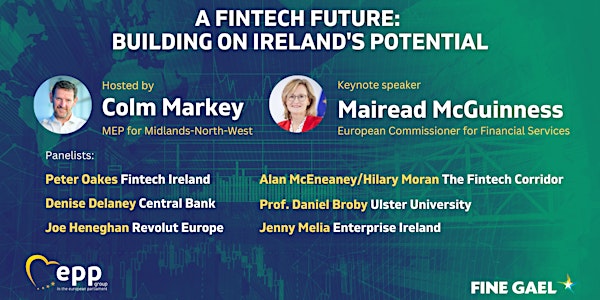 A FinTech Future: Building on Ireland's Potential
Colm Markey MEP, EU Commissioner Mairead McGuinness and a panel of experts discuss Ireland's potential to be a global leader in FinTech.
When and where
Location
Fairways Hotel Dundalk: Blackrock suite Dublin Road A91 E6KC Dundalk Ireland
About this event
Ireland's unique ecosystem of innovation, talent, and dynamic financial services and technology sectors has led to its growth as a world-class fintech hub. This conference will explore both the challenges and opportunities ahead as we strengthen the sector even further through foreign direct investment and supporting indigenous firms.
Keynote Speaker - EU Commissioner for Financial Services, Financial Stability and Capital Markets Union Mairead McGuinness
Mairead McGuinness has been Ireland's EU Commissioner since October 2020. Her vision for the portfolio is focused on ensuring the financial sector's strength and stability, so that it can deliver for people, society and the environment. Prior to her appointment as Commissioner, she was First Vice-President of the European Parliament from 2014-2016 and served as an MEP for 16 years
Panel 1 - Fintech's Place in Ireland's Financial Systems
Ireland is fast becoming a global hub for fintech and financial services. There is huge growth potential in regions across the country, and Ireland's reputation as world leaders in innovation, backed by government support, is growing stronger each year. With questions surrounding regulation growing in importance, this panel will discuss the current and future place of fintech in the Irish economy.
Speakers:
Peter Oakes - Fintech Ireland
Peter Oakes is a highly experienced Chairman and Independent Non-Executive Director of regulated fintech and other financial services firms. Peter advises companies, C-Suite and Boards on strategy, governance, authorisations and fintech across banking, payments, funds, MiFID, re-insurance, fintech, regtech, cryptocurrencies / digital assets and distributed ledger technology industries. Peter founded Fintech Ireland and RegTech Ireland to promote Ireland's capabilities in these areas.
Denise Delaney - Central Bank of Ireland
Denise Delaney is Head of the Policy and Risk Horizontal Function within the Financial Regulation: Policy and Risk Directorate at the Central Bank of Ireland. She is responsible for the development and coordination of innovation policy, including the Central Bank's approach to engagement with innovators, via the Innovation Hub and outreach programme. She is also responsible for the implementation of the Central Bank's approach to engagement with stakeholders, via the Industry Forum and Financial System Conference.
Joe Heneghan - Revolut Europe
Joe Heneghan was appointed as Revolut's Chief Executive Officer Europe in June 2021 having served as CEO of Revolut Payments Ireland Ltd since October 2019. He has over 25 years' experience in financial services. Prior to joining Revolut, he spent 14 years at Ulster Bank (part of the RBS group) in various senior roles including chief administrative officer. He also serves on the Executive Board of Financial Services Ireland.
Panel 2 - The FinTech Corridor: Making Fintech Local
Speakers:
Alan McEneaney and Hilary Moran- The Fintech Corridor
The Fintech Corridor provides a unique opportunity to collaborate between the north and south of the island, while focussing on the wider aspects of developing partnerships and positioning the Fintech Corridor as the most attractive and accessible location for Fintech on the island and a gateway for fintech companies to Europe, connecting EU&UK fintech.
Jenny Melia - Enterprise Ireland
Jenny Melia was appointed Enterprise Ireland's Manager of Technology & Services Division in 2022. She has worked with EI since completing a BSc and PhD in Chemistry in UCD in 1996. Jenny has held a number of high-level positions within the company including Manager of EI's High Potential Start Up Division and as the Irish liaison for EU nanotech and advanced materials funding programmes, she was appointed by the EU Commissioner to their high level advisory group.
Prof. Daniel Broby - Ulster University
Professor Daniel Broby is an internationally recognised finance academic and formerly a senior figure in the fund management industry. He is Chair of Financial Technology at Ulster University and teaches Predictive Analytics and Contemporary Issues in Financial Technology. In addition to being a thought leader and influencer, he conducts research into capital markets and digital technologies. He is a recognized expert on the financial applications of blockchain and distributed ledgers.