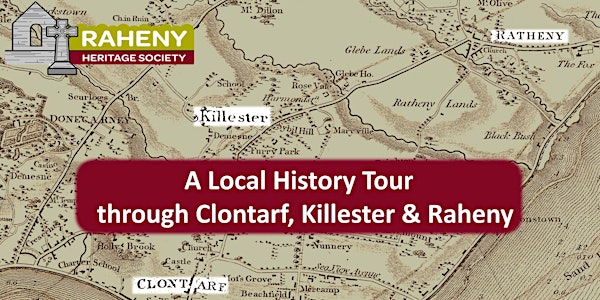 A Local History Tour Through Clontarf, Killester and Raheny
Presented by Raheny Library, as part of Dublin Festival of History 2021
By Dublin Festival of History
Date and time
Thu, 30 Sep 2021 11:00 - 12:15 PDT
About this event
Raheny Library and the Raheny Heritage Society are delighted to present "A Local History Tour Through Clontarf, Killester and Raheny".
Local History, no matter where it is researched, is always full of surprises. Three local historians, from Raheny Heritage Society - Douglas Appleyard, Noel Carolan and Joan Sharkey, present a miscellany of interesting, unusual and surprising insights into the history of Clontarf, Killester and Raheny along the famous Dublin to London Road.
Topics will include:
A hamlet demolished to build a railway
The legacy of Georgian developers in Ye Hollybrookes
Hickey and his Triumphal Arch
The train ambush
The Farm Colony
A Steam Tractor Ploughing Exhibition
The murder of a gardener
The burning of an RIC Barracks during the War of Independence
The long-lasting built heritage of Samuel Dick
A missionary doctor and her public memorial
More local history information is available at Raheny Library, and in various publications by Raheny Heritage Society, and several local historians. For more information on these topics, see www.rahenyheritage.ie
About the organiser
The Dublin Festival of History is an annual free festival, brought to you by Dublin City Council, and organised by Dublin City Libraries, in partnership with the Dublin City Council Culture Company.