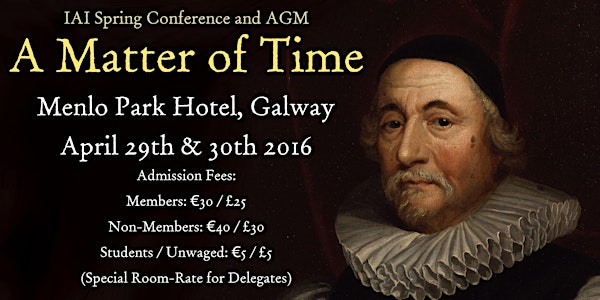 "A Matter of Time" The Institute of Archaeologists of Ireland Conference
Location
Menlo Park Hotel
Headford Road
Galway
Ireland
Description
The Institute of Archaeologists of Ireland are pleased to announce that the 2016 IAI Conference will be held in Galway City on April 29th and 30th. This year's theme 'A Matter of Time' seeks to explore materiality and chronology in Irish Archaeology from multiple viewpoints. Prehistoric archaeology in Ireland has been revolutionised in recent years due to a much more detailed understanding of chronology than was previously available. However, has our understanding of materials and lifeways kept pace with our refined ability to put the archaeological record in order? Has the same progress been made for later periods, especially (for example) the early modern period, when radiocarbon ceases to become a useful dating control? How can archaeology add to and challenge historical narratives of "what happened" in the past? What are the changing relationships between society and the natural environment?
Our speakers will confront these problems as well as examining changing materials, technology, and architecture and the 'new' information that can be gleaned from the archaeological record as a result of their study.
The Keynote Address will be delivered by Prof. Elizabeth FitzPatrick of NUIG. Prof. FitzPatrick will present 'Suspending Time: Wilderness and Boundary Places in Medieval Ireland'.
Our conference is a forum for discussion and a networking opportunity. We are proud to be offering an award for the best paper in the post-graduate session for student researchers. In addition, we're sure many of our conference delegates are looking forward to this years, and the ever-popular, Table Quiz on Friday night.