A Meeting with Meadowsweet with Nicola Winters
About this event
During our meeting with Meadowsweet we will explore all we can about the wildflower Meadowsweet. From herbal properties to historical uses and folklore, how to gather and cultivate meadowsweet and even reported magical uses ~ just for good measure. We will further meander with meadowsweet, delving into the imaginal realms through listening to a mythical and sacred story, we will reflect on this time of the year as we move towards summer solstice on June 21st. There will be time to share questions and further reflections at the end of the session.
Nicola is inspired by diverse cultures and ways of being, especially indigenous cultures attuned to living in harmony with the natural world. Nicola is curious about how to integrate such wisdom into our modern lives, and is passionate about the potential of education as a vehicle for empowerment and change. Nicola holds workshops which inspire and motivate people to take actions that promote care for the earth, ourselves, and one another.
She holds a BA in English, Media and Cultural Studies, an LLM in Human Rights Law, has completed her training in forest school leadership, and is currently undergoing a 3 year plant medicine apprenticeship. As mum to a busy 2 year old, she is all the more curious about what it will take for us as a species to thrive as members of the web of life within the ecosystem of Planet earth, and is encouraged to be part of the wonderful work of Green Sod Ireland.
This community focused initiative is kindly supported by Rethink Ireland.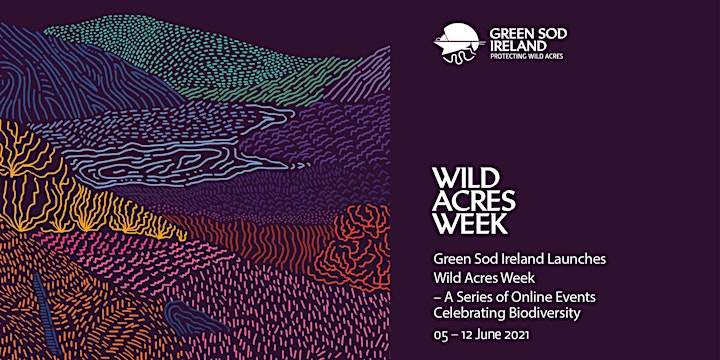 Organiser of A Meeting with Meadowsweet for Wild Acres Week
One of the things that Green Sod Ireland loves most in the world is biodiversity! To celebrate we are holding a series of events called Wild Acres Week to explore and discuss the importance of biodiversity in Ireland.

Green Sod Ireland will be talking to guest speakers such as scientists, environmentalists and artists to help us understand what biodiversity is, where it exists and what we can do to help it thrive. Biodiversity has many definitions and in simple terms refers to all forms of life on earth including mammals, plants, fungi and microorganisms. So that includes us, our pets and all of the wildlife in the world, no matter how big or small.

In this era of climate change and uncertainty we are inviting specialists to discuss their knowledge of biodiversity and their understanding of the interconnectedness between humans and the natural world. Join us to learn more about the intrinsic value of nature and what actions we can take to help protect our environment.
Wild Acres Week is a project collaboration between Ashleigh Downey, Green Sod Ireland's Environmental Arts co-ordinator and Michelle Tighe, Green Sod Ireland Volunteer