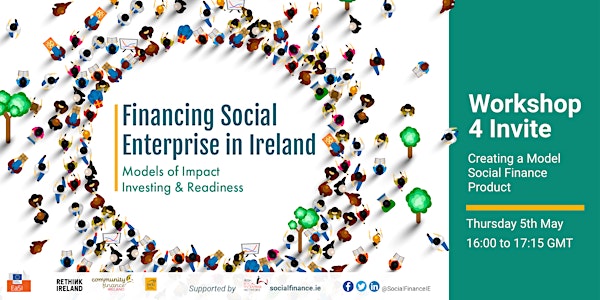 A Model Social Finance Product for Ireland
A workshop exploring a 'Model Social Finance Product'. Financing Social Enterprise in Ireland – Models of Impact Investing & Readiness
About this event
Join us for a workshop exploring a new product for social economy organisations as part of the 'Financing Social Enterprise in Ireland – Models of Impact Investing & Readiness' project.
The consortium partners are Rethink Ireland, Dublin City University and Community Finance Ireland supported by the Irish Social Enterprise Network.
This short 75 mins workshop aims to give you access to a new social finance product for the Irish market and invites you to give your opinion and your expertise.
The Product: Hybrid repayable and non-repayable finance with wraparound social enterprise business support. Finance of circ. €50,000 over 5 years at an over-all cost of 2 – 3 %