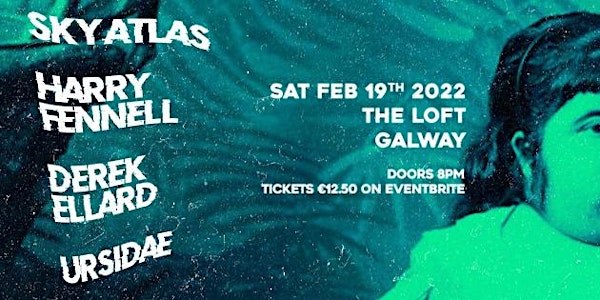 A MODERN MOVEMENT #5 - SKY ATLAS, HARRY FENNELL , DEREK ELLARD, URSIDAE
A Modern Movement is bringing Dublin act Sky Atlas for a show in Galway, joining them on the night, Harry Fennell, Derek Ellard and Ursidae
When and where
Location
Seven Bridgestreet 5-7 Bridge Street H91 A588 Galway Ireland
Refund Policy
Contact the organizer to request a refund.
About this event
A Modern Movement are delighted to present our 5th club night, and this time we're bringing you a night of alternative folk and indie with a line up made up of acts from both Dublin and Galway.
Headliners on the night is Dublins Sky Atlas -
As the name would suggest, the four young men that make up Sky Atlas approach their music and the art of songwriting in the true spirit of freedom and exploration. There is an expanse and freshness to their sound that refuses to be defined while remaining true to the maps of the musical influences that have charted the territory in which they travel.
Sounding truly original in 2021 is a huge challenge for any artist or act, but every now and then something comes along that catches you off guard and refuses to be assigned a familiar genre or easy soundalike. 'Stone', the beautiful, theatrical torch song that opens Sky Atlas' forthcoming debut EP, is one such impossible-to-ignore example.
The ambitious quartet is made up of Louis Younge, a wildly versatile multi-instrumentalist as adept with a violin as he is with a wind organ, Deftones-loving drummer Ryan McClelland – an "absolute monster behind the kit who can play anything", bassist Danilo Ward; a "mystery man" who grew up in a French commune, and who, in his own words, grew tired of playing in the church band all his life, moved to Ireland and wound up pursuing music full-time in BIMM Dublin alongside his future bandmates, and lead vocalist and guitarist Lughaidh Armstrong-Mayock, who cut his performing teeth as a teenager in a Leitrim rock school.
Sky Atlas - Threads (live from Black Mountain Studios)
Harry Fennell - Having spent a summer in Galway busking and honing his sound recently before returning to Dublin, Harry is welcomed back with open arms to bring his sound of original and slightly hypnotic folk to the stage of seven. Influenced by the sounds of John Lennon, Bob Dylan, Leonard Cohen and masters of the folk technique, Harrys style is something that audiences slip into and find themselves enchanted by very easily.
Harry Fennell - Working Class Hero (John Lennon Cover)
Derek Ellard and The Future Business Model - Derek Ellard and The Future Business Model are a four-piece indie Folk/Rock band based out of Galway, Ireland.
Obsessed with the human condition, the bands songwriter, Derek, delves head first into the tribulations of our current climate with his emotionally charged rhetoric reinforced by their distinct use of vocal harmonies and metrical sleight of hand. As deliberately challenging as it is intoxicating. Often hysterical, invariably restless but principally honest. pushing folk rock in new and challenging directions. Blurring the lines of genre definition, stealing pages from math rock, prog, jazz and electronica. Produced, recorded and released, in conjunction with Joseph Padfield under the Umbrella records collective.
Derek Ellard and The Future Business Model- The Lake
Ursidae - Ursidae are a West-Coast musical collective centred on lead singer and guitarist Dónal Tuipéar. The band features a revolving lineup of musicians from the four corners of the country who help bring Dónal's fighter pilot approach to his songwriting to life. Driven by infectious-ramshackle energy, Ursidae are the self-proclaimed West-Coast Stewards of charming indie-folk-rock.
Ursidae - Bonsai Tree (Live at AMM in the Summer Garden)
Tickets only available here....
Posters by Shane Serrano @ Crude Films.