A discussion held in conjunction with the River Restoration Centre, on the current status, and future protection methods of the Cloontagh.
About this event
Over the last few months, the Inishowen Rivers Trust has been encouraging the local community to learn more about the Cloontagh Rivers environment, its wildlife, and its heritage.
On Sept 3rd a group joined the River Restoration Centre (Cranfield University) in discussing how to develop a plan for the river. This looks at all the information available on the river and is a step-by-step process to helping identify what the pressures are on the river and the impact of these pressures.
The second part of the training will take place on Sept 24th for a further 3 hours with the River Restoration Centre and will bring all our knowledge together into a single plan.
New participants are welcome to this last session particularly local residents who have an extensive knowledge of the system and it's history. This event takes place between 10am and 1pm via Zoom, and it is free of charge.
This training is funded by Rethink Ireland under their Innovate Together Award 2020, supported by the Department of Rural and Community Development via the Dormant Accounts Fund, and corporate partners including the Z Zurich Foundation, Oakfield Trust, Medtronic and Twitter. Additional funding for the Cloontagh Catchment Project has been provided by the Local Authority Waters Programme.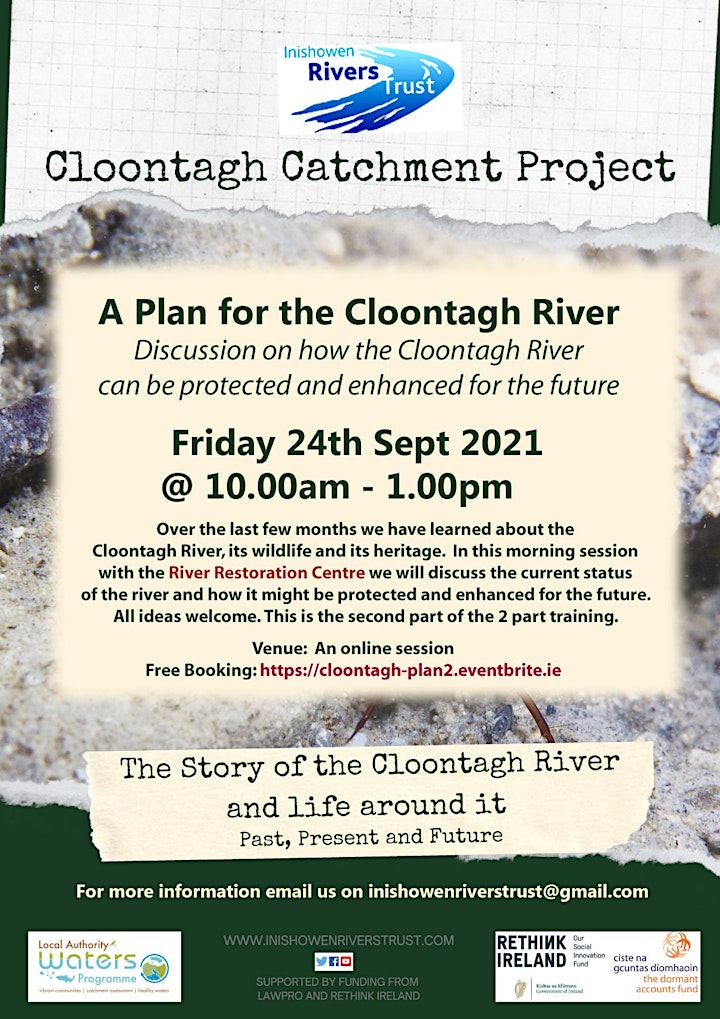 Organiser of A Plan for the Cloontagh River - Part 2
The Inishowen Rivers Trust is a charity dedicated to the conservation, protection & restoration of the rivers and natural watercourses of Inishowen, Co. Donegal. Our aim is to raise awareness of the importance of understanding our rivers and catchments, including their fauna, flora, biodiversity, economic or social activity, and river catchment management, for the advancement of environmental protection or improvement for the benefit of the public.