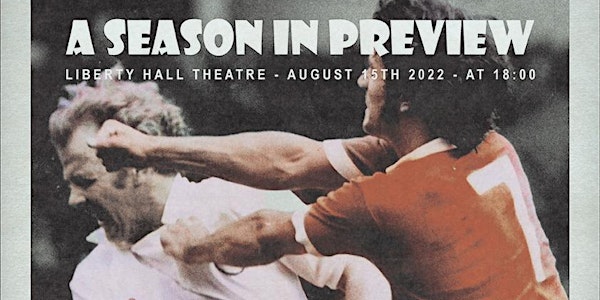 A SEASON IN PREVIEW: Michael Cox, Ken Early, Duncan Alexander, Gavin Cooney
Preview the Premier League Season with Michael Cox (TACTICS!), Duncan Alexander (STATS!), Ken Early (PAGEANTRY!), Gavin Cooney (QUESTIONS!)
When and where
Location
Liberty Hall Theatre 1 Eden Quay Dublin 1 Ireland
About this event
Come join us for an evening to preview the Premier League season with all the TACTICS, all the STATS, and all the PASSION & BELIEF with Ken Early, Michael Cox, Duncan Alexander and your host, Gavin Cooney. Warm-up duties from the irrepressible WITNESS THE QUIZNESS.
KEN EARLY
Ken Early is a journalist and broadcaster. He is currently a director of Second Captains & regular columnist for the Irish Times, one of his earliest exposures to sport was as a member of the Templeogue Swimming Club. Follow him @kenearlys
MICHAEL COX
Michael Cox writes on tactics for The Athleic. A previous contribiutor to The Guardian & ESPN and creator of the simnal tactical website, Zonal Marking. His first book was The Mixer: The Story of Premier League Tactics, from Route One to False Nines & his second book is handily entitled Zonal Marking and about the evolution of modern European football. Follow him @ZonalMarking
DUNCAN ALEXANDER
Duncan Alexander is chief editor of theanalyst.com, author of two books on the Premier League, co-founder of @OptaJoe and a regular contributor to The Totally Football Show. Follow him at @oilysailor
GAVIN COONEY
Gavin Cooney is a sportswriter and podcast host with The42.ie, covering mainly Irish football and 1-1 draws. And he does the television very well too. Follow him @gcooney93
WITNESS THE QUIZNESS
Question: Ireland's best quiz setter and presenter?
Answer: Probably
Warming up proceedings with a cracking quiz, using the projector and fancy-modern-computery-stuff Ronan Leonard will host a live quiz - it will be very tough but fair and fun. We'll have some of our panelist's books as prizes for the winners. (1 phone per entrant needed). Follow him on @thequizness
LIBERTY HALL
It's a fully seated venue, a fully stocked bar and you can even bring your drinks...to YOUR SEATS.
RUNNING ORDER
18.00 Doors Open
18.30 Witness the Quizness
19.00 Season in Preview First Half
19.45 Interval
20.00 Second Half
20.45 Full-time (Later if we go to extra-time)
21.00 Aprés Match....meet the panel at the Liberty Hall Theatre Bar.