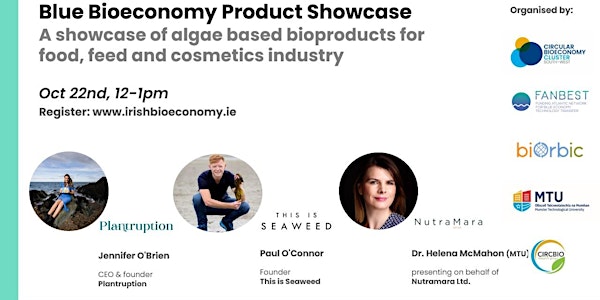 A Showcase of Irish Marine Bioproducts
Blue Bioeconomy Showcase: Irish sustainable bioproducts made from marine materials
About this event
This year's Bioeconomy Ireland Week is taking place from 18 – 24th October, a dedicated time in the calendar year to highlight and raise awareness of Ireland's growing blue bioeconomy.
The Circular Bioeconomy Cluster South-West Cluster, FANBEST and BiOrbic are coming together to shine a light on the role of innovators using marine based materials to create sustainable products ready for market - whether its food, cosmetics or pet food!
Product Showcase Speakers
Jennifer O'Brien​ , CEO & founder Plantruption​
Our mission is to disrupt how food is produced to benefit oceans,ecosystems and future generations by creating plant-based seafood with taste and texture close to the real deal fish using seaweed & micro algae. Our aim is to brand sustainability with innovation by cutting out the middleman, the fish while creating an awesome seafood experience.
Depletion of global fish stocks has not been attributed to fishing alone. Habitat destruction, pollution, climate change and invasive species also have an impact upon fish populations. Alternative seafood doesn't rely on wild population productivity or geographical considerations. Supply chains and raw materials for alternative proteins are significantly less constrained than conventional seafood supply chains. Plantruption is committed to operating in a way that not only protects the planet but promotes biodiversity and ethical standards. We source our ingredients, choose our packaging, and innovate new products all with the planet's wellbeing at the forefront of our mind with our main focus in empowering employees, educating employees and creating a sustainability culture environmental protection where sustainability is truly lived and not just spoken of.
Paul O'Conner, Founder This is Seaweed
This is Seaweed was founded by Marine Biologist Paul O'Connor in 2015 and is based at the NovaUCD Innovation and Research Campus in Dublin. The company operates in the Plant-Derived Nutraceutical sector. With the rapid growth in the Healthy-Eating and Plant-Based food sectors driving demand for functional food ingredients, This is Seaweed aims to position itself as the go-to producer of sustainable seaweed extracts that future-thinking companies will demand.This is Seaweed is committed to technological innovation; both in the active ingredient extraction process, and the ultimate ingredient delivery format across a range of health areas. The company recently agreed on a collaborative technology development project with Teagasc, underpinned with funding from Science Foundation Ireland (SFI). The project is investigating the optimal technology configuration for extracting macromolecules - such as protein and carbohydrate - from seaweed.
Dr. Helena McMahon​, MTU presenting on behalf of Nutramara Ltd​
NutraMara is a blue biotechnology company based on the west coast of Ireland and specialising in the isolation and application of marine molecules.It is a convergence of €15m+ in research projects involving the company's founders and scientific team of expert marine entrepreneurs, phycologists, biochemists and molecular & cellular biologists. NutraMara's technical expertise is complemented by a team of experts in regulatory affairs, manufacturing, sales, marketing & design.
This collective of talent, knowledge and experience is evidenced in NutraMara's positioning at the cutting edge of sustainable marine products and brand development. The company operates B2B selling marine bioactive ingredients and B2C commercialising these bioactive ingredients in innovative formulations brought to life through the company's in-house brand lab (NPD and brand development) with go to market capabilities (e-commerce & marketing).
Programme Supports
Prof Brijesh Tiwari, BiOrbic
BiOrbic supports for the Blue Bioeconomy:
- BiOrbic provides expertise of over 100 expert researchers to help marine producers reduce waste, access high value ingredients, and transform these ingredients into new and innovative products.- BiOrbic also provides generous funding supports to carry out research with marine industry partners.
Laura Jayne Foley, FANBEST
FANBEST supports SME's in the Blue Economy:
FANBEST is an Interreg project to support SME's in Blue Economy access funding, research and new markets through a programme of transnational coaching and events. FANBEST companies will have access to expertise across a range of business and research areas and a coaching programme tailored to their company needs.
Catriona Power, CBCSW
Circular Bioeconomy Cluster South-West is a first-of-a-kind regional bioeconomy cluster in Ireland. With a focus on marine, agriculture and waste-to-value thematic areas, our goal is to develop and promote the circular bioeconomy in the region. The cluster brings together industry, enterprises, government and research centres to deliver unique and co-created projects to benefit member companies. The cluster supports members with research and development, project development, project partner identification, talent and skills development, market connections, and funding.
______________________________________________________________________________________________
Join a session to learn about companies with sustainable marine based bioproducts available on the market in cosmetics, agriculture and food.
Organised in partnership with FanBest, Circular Bioeconomy Research Group and Biorbic.
Register via Eventbrite and a Zoom link will be shared ahead of the event.