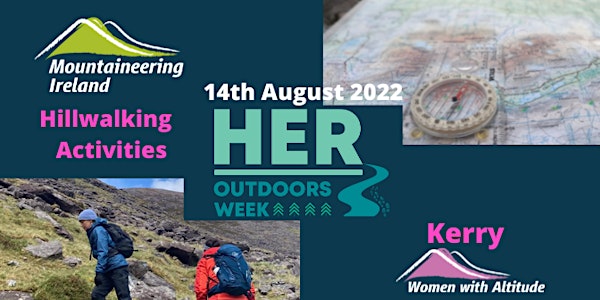 A Week For Women With Altitude - Her Outdoors Week 14th August - Kerry
Women With Altitude team is coming to a county near you! This week is all about building your confidence on the hills and crags.
When and where
Location
Glenbeigh Glenbeigh Kerry Kerry Ireland
Refund Policy
Contact the organiser to request a refund.
About this event
HER Outdoors Week from August 8th-14th is an opportunity to re-ignite and re-introduce females to the outdoors. Mountaineering Ireland are offering ALL females of all levels of experience to escape to the outdoors and try something new. Mountaineering Ireland have put together a number of hillwalking based activities across the country for you. This week is all about building your confidence on the hills. There will be activities in locations around the country for those who are new to hillwalking to help increase your confidence and provide you with key skills to stay safe on the hills and crags and for those more experienced to develop your skills even more.
Each day will be run by a qualified instructor, the type of courses that will be on offer will be on navigation for all levels and the mountain environment! This is a great opportunity for all women interested in hillwalking to link in with peers and instructors in your area and develop your skills!
When & Where
Enjoy hillwalking throughout the week between the 8th - 14th of August. The activities are running nationwide - we have arranged over 12 activities in various locations around the country.
This event is based in Kerry on the 13th and will be navigating up onto Seefin Mountain. This is ideal for women who have some navigation experience but want to improve and gain further confidence as navigators, thus increasing the ability to explore unfamiliar terrain and new locations. This session will work at the level of participants and seek to develop sound navigation practice in the hills. GPS may be included (bring one if you have one).
As there are limited spaces and we are trying to offer as many women as possible an opportunity to participate we ask you to only book onto one activity.
These programmes are partially funded with an entry fee of only €10 for an activity.
What gear do I need
Wear comfortable clothing like you would use for a walk - leggings, tracksuit bottoms, breathable T-Shirt and fleece & an extra warm layer. Be ready for the rain and pack a rain jacket and rain trousers. A hat and gloves might keep you safe from the wind. Wear good sturdy walking shoes or hillwalking boots with woolly or synthetic socks. Have a backpack with water, sunscreen, sandwiches and snacks, coffee, or tea. There is nothing more rewarding than a nice cup of coffee or tea drunk on top of the mountain. Don't forget to bring first aid kit with plaster and bandages, personal medicine, inhaler, epipen etc.
In Addition: you can bring an OSI, Harvey or East West map of your local area and a compass if you have one. Bring a whistle but, hopefully, you won't get lost. Maps and compasses might be supplied by the instructor. Have your phone fully charged.
Celebrate & Share. Share a photo or video on our social media - tag @ womenwithaltitude, @MountaineeringIreland
#HEROutdoorsWeek, #Womenwithaltitude, #Mountaineeringireland, #FindYourOutdoors
Disclaimer: Mountaineering Ireland recognises that climbing, hillwalking and mountaineering are activities with a danger of personal injury or death. Participants in these activities should be aware of and accept these risks and be responsible for their own actions and involvement.