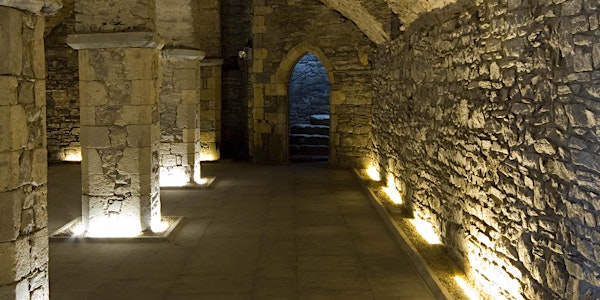 A Wine Tasting Evening at Waterford Treasures
A wine tasting evening accompanied by a short talk on the history of wine in Ireland in the gorgeous setting of our medieval undercrofts
When and where
Location
Waterford Treasures: Medieval Museum (Treasures of Medieval Waterford) Cathedral Square X91 K10E Waterford Ireland
About this event
Waterford & Wine
Waterford and Wine are synonymous and to celebrate Waterford Treasures Museum is focussing on wine during Heritage Week in August. There will be a guided walk through the Viking Triangle in the footsteps of people who enjoyed wine through the centuries. Waterford Treasures will also put on a historic talk /wine tasting. New exhibits in the Mayor's Wine Vault will highlight the long tradition.
People have enjoyed drinking wine in Waterford for over fifteen hundred years, importing from Roman Britain. After all wine was needed to celebrate Mass! The Anglo-Norman Gerald of Wales noted about Ireland 'Imported wines are so abundant that you would scarcely notice that the vine was neither cultivated nor gave its fruit here.' Fine imported wine jugs on display testify to Waterford being the wine capital of Ireland in the 1200s, importing more wine than the other royal ports. Far from being on the fringe of Europe Waterford had connections across Britain and the Continent and many immigrants played important roles in its social and cultural life.
Around 1300 here in Waterford Friar Jeffrey and his friend Servais Copale, the king's tax collector on wine imports to Ireland, collaborated in translating a Latin text, adding wine-tasting notes! Wine merchants often became mayors – Eymar de Godard from Gascony four times! James Rice was another, mayor on eleven occasions! In this mini-festival listen to the ghostly echoes in Mayor Rice's atmospheric wine cellar under the Medieval Museum where he stored his wines, hear the stories of his life and work as Mayor and of how he built Ireland's goriest cadaver tomb before going on pilgrimage to Santiago de Compostela.
17th and 18th century Ireland are notorious for the quantities of wine drunk in Ireland, attested by displays of magnificent silver wine and claret jugs and other wine-related tableware in the Silver Museum and the Bishop's Palace. Many Waterford family were involved in the wine trade. The Temperance campaign of Father Mathew was very effective in reducing 19th century consumption of alcohol. Today Irish drinkers of wine are regarded as among the best-informed consumers worldwide. The most popular wines in Ireland are Chilean, Spanish, Australian, French and Italian in that order.
Book your place today for this exclusive event during Heritage Week!