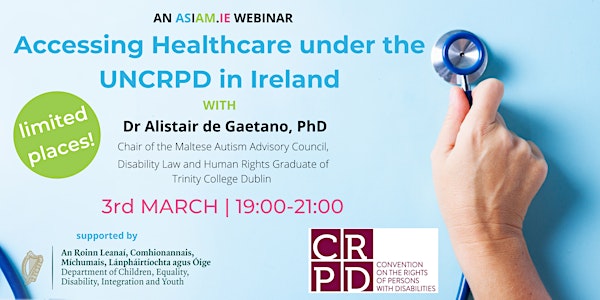 Accessing Healthcare under the UNCRPD in Ireland - An AsIAm Webinar
Welcome to the second of two webinars we're hosting on accessing supports under the UN Convention on the Rights of Persons with Disabilities
About this event
Welcome to the second of two webinars we're hosting on accessing supports under the UN Convention on the Rights of Persons with Disabilities (UNCRPD).
We'll be looking at healthcare on Wednesday 3rd March from 19:00 - 21:00. Our keynote speaker will be Dr Alistair de Gaetano, Chair of Malta's Autism Advisory Council and a human rights law graduate of Trinity College Dublin.
This will be a chance to gain an in-depth insight into the latest human rights instrument on disability rights, the provisions it offers, and how autistic people and their families can exercise their rights under it.
During our education seminar, some of the topics we will specifically be covering include:
Article 25
The right to healthcare
Anti-discrimination in the CRPD
Barriers to access
Reasonable accommodations
Ireland's duty as a signatory State to provide provisions
We will also be joined by Dr Mary Doherty, MD, a consultant anaesthetist with over 20 years of experience in Irish health services. Her interest in autism began following her child's diagnosis in 2013. Mary has spoken extensively on autistic perspectives accessing healthcare at conferences across Europe, drawing on her son's experiences as well as her own as an autistic medical professional.
The Agenda is as follows:
19:00 - Introduction from AsIAm
19:10 - Keynote lecture from Dr Alastair de Gaetano
20:00 - Q&A session
20:10 - Break
20:20 - Insights from Dr Mary Doherty, MD
20:50 - Q&A session
21:00 - Closing remarks
The seminar will take place online over Zoom, and will be recorded. It will be uploaded onto AsIAm.ie shortly afterwards.
Places will be limited on a first come, first serve basis - register now!
If you have any questions, feel free to email our Policy Officer at gaibhin@asiam.ie.